The opening notes of "Pomp and Circumstance" began drifting down from the ensemble stationed on the small platform suspended above Knott Arena at Mount St. Mary's University just after 2 p.m. on Tuesday.
"Louder!" Walkersville High School Band Director Alexander Loy whispered to the student musicians.
But the sound from their instruments was nearly drowned out seconds later as the audience exploded into applause and screams when the Walkersville High School class of 2022 began its procession into the auditorium.
Three hundred and ten students graduated from the high school Tuesday afternoon, Frederick County Public Schools spokesman Brandon Oland wrote in a text message.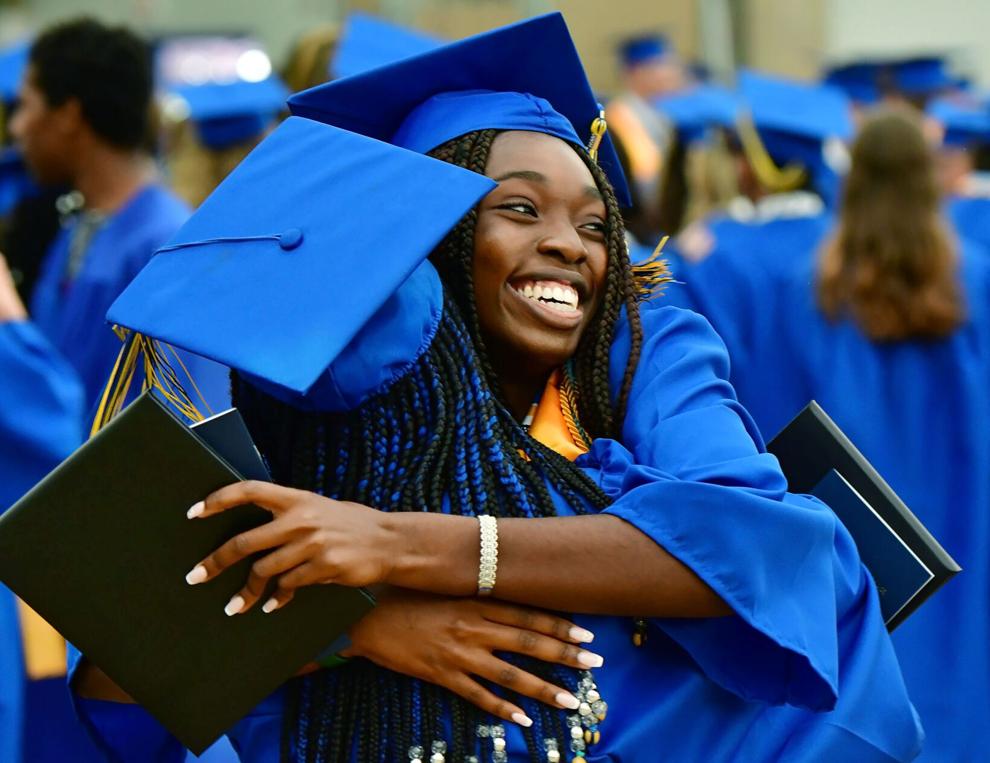 "Way to go, Piper!" someone shouted from the audience as students filed into their seats. People in the crowd waved cellphones to film and take photos of the graduates. Some tilted the screens of their phones toward the stage so relatives could experience the occasion over FaceTime.
Before the ceremony began, the soon-to-be graduates milled around the basketball courts across the hallway from the arena.
Seniors Lizzy Leggieri, Eleanor Gish and Emily Benson stood near the edge of the crowd. They smiled nervously when asked how they were feeling.
"It's a mix of emotions," Leggieri said. Gish and Benson nodded in agreement.
The meaning of the day hadn't really set in yet for Benson. She knew it was a special occasion. People had been telling her so all day.
But for some reason, it felt like being in school on one of those holidays that students don't have off for.
"Like St. Patrick's Day," Benson said with a laugh.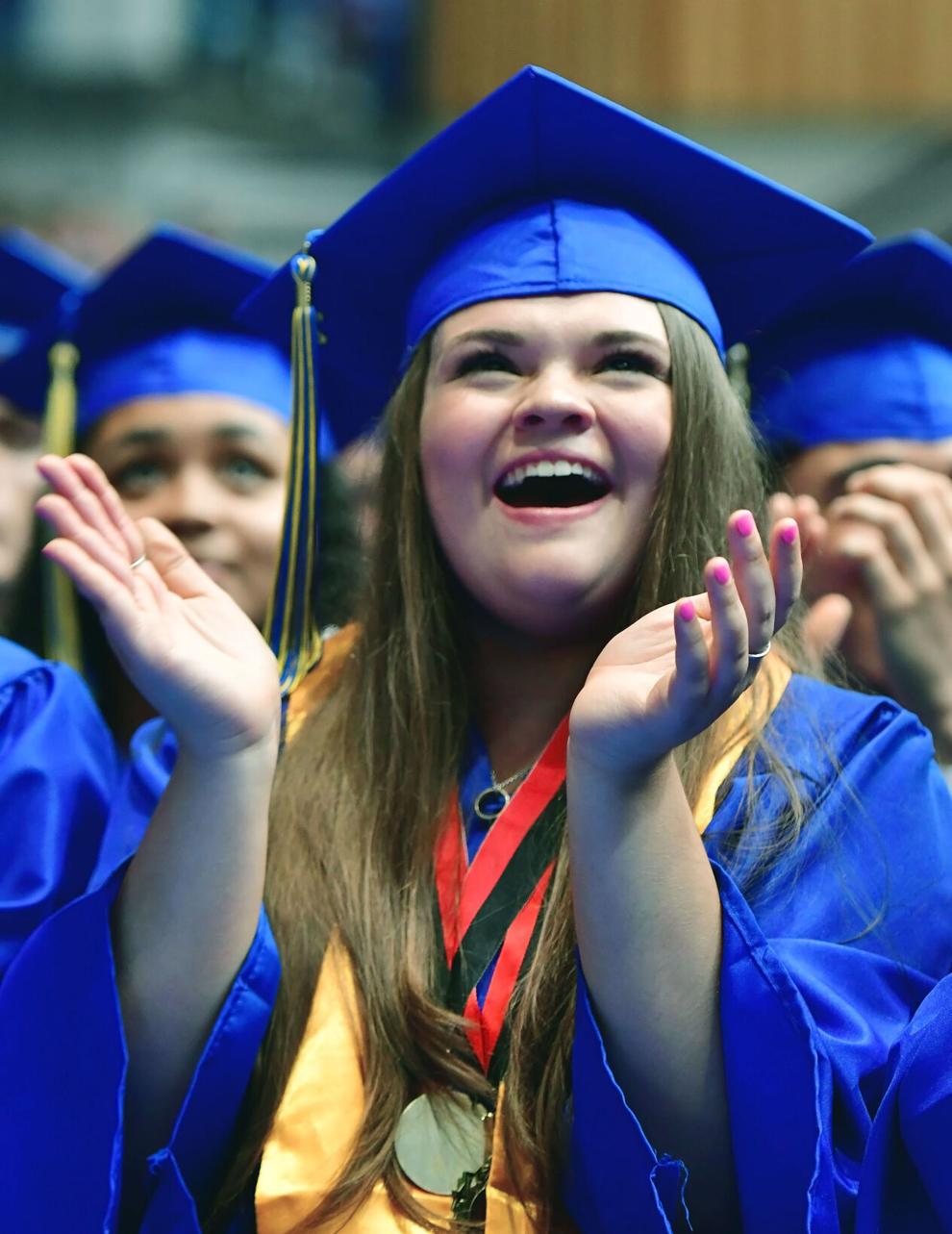 Ten minutes before the ceremony was set to begin, the voice of Walkersville Assistant Principal Cynthia Zimmerman cut through the cacophony of the student's chatter. It was time to line up.
"OK, dumplings," she later called out. Some of them had yet to zip up their robes. They needed to do that now, she said.
A little more than an hour before Gracey Bowers, Aidan Gaines and Paul Garza officially became Walkersville High School alumni, the trio had their regalia on and ready to go.
A tuft of black hair Garza had dyed blonde stuck out from the back of his cap. He would have to shave it off before starting school at the Naval Academy, he said with a smile. It would be just another change.
Garza transferred to Walkersville High School from a private school in Washington, D.C., for his senior year. Even though he attended elementary and middle school in Walkersville, starting at a new high school had been intimidating. He worried he wouldn't fit in.
But his fears were soon assuaged when the school year began.
"It felt like home," he said.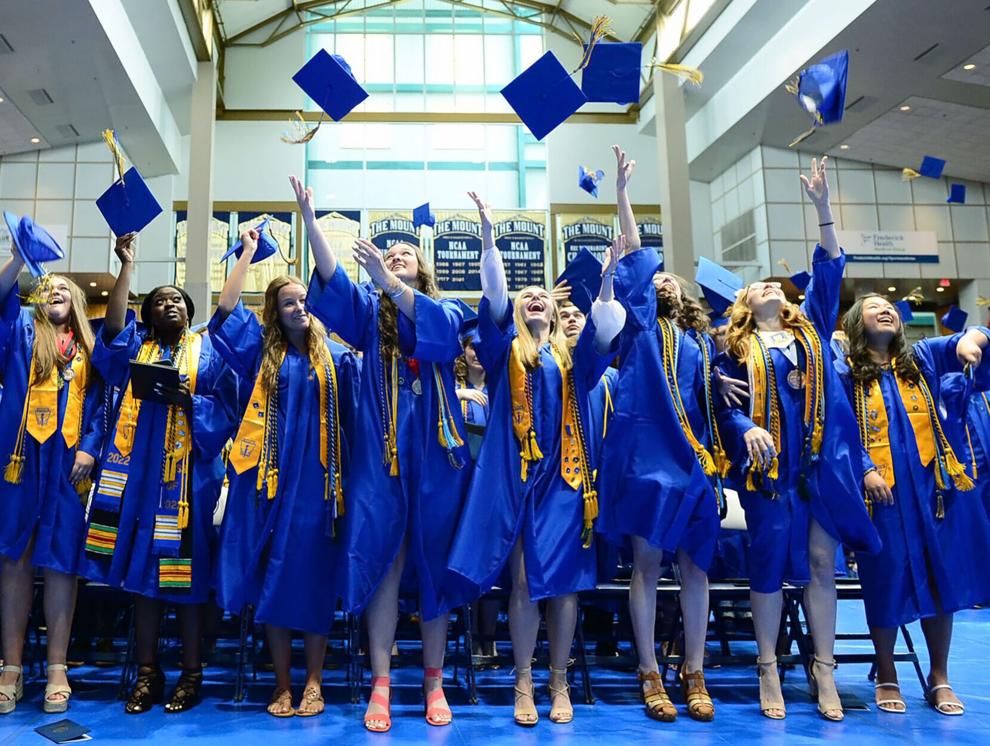 Even though the pandemic erased some time the graduates would have spent together in person, Bowers, Garza and Gaines pointed out a silver lining in their unusual high school experience.
"We weren't so caught up on the 'We're ready to get out,'" Bowers said. "We were focused on 'How do we make this high school experience like high school?'"
Travis Buakah stood near the front of the line. Though he attended elementary school at North Frederick, he's been a Walkersville Lion since middle school.
The past four years have been memorable ones, he said. He predicted that the time he spent with the high school's soccer and track teams would stick with him the most. Two gleaming medals from the state track tournament hung around his neck Wednesday afternoon.
The day was bittersweet, he acknowledged.
"But I'm more happy than anything else," he added with a smile.
Follow Angela Roberts on Twitter: @24_angier
https://www.fredericknewspost.com/news/education/a-mix-of-emotions-walkersville-high-students-become-alumni/article_fbc2b266-854e-51e6-b49c-f4bc4bebfba5.html