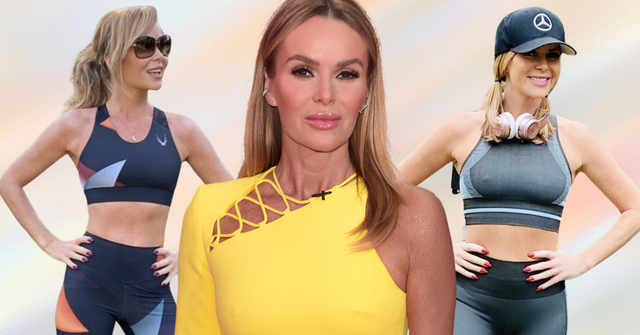 Getty / Instagram Instagram
Anyone who's seen Britain's Got Talent will know that Amanda Holden is the host who's always up for a laugh, and turns out she doesn't take her health or fitness too seriously, either. We know what you're thinking. How does she look so bloomin' good, then?
It comes down to what we're always telling you – the happier you are with your health and fitness habits, the more likely you are to keep them up, so while Amanda doesn't force herself to do anything she doesn't enjoy, the stuff she does do she does regularly and to the best of her ability. Here's everything we know.
1.Amanda Holden doesn't diet
'Life is too short to be strict,' she said in an interview with Top Sante. 'Life is for living, so I believe in everything in moderation.'
In another interview with the Daily Mail, she added, 'I eat everything, I drink everything. I had a friend once who didn't make it to her 50s and her biggest regret was that she spent her life on a diet. I don't diet.'
In fact, Amanda once revealed that she avoids everything 'half-fat' and always punts for full-fat yoghurt, butter and cheese. #Balance.
2. Amanda Holden drinks a lot of water
If you're one of Amanda's 1.8million IG followers, you'll know that she likes to enjoy a glass of wine every now and then. But speaking to the Daily Mail, she added that she counteracts this by 'drinking a lot of water as I know it's good for my body and soul'.
She added that, admittedly, her glowing complexion is largely attributed to her genes. 'I drink loads of water – a lot of coconut water – but I think my skin is genetic because my nan looks amazing at 97.' Hilarious and honest. What a woman.
3. Amanda Holden doesn't push herself to exercise
In what might be the most surprising revelation about Amanda of all, she previously told Top Sante that she's 'not a huge fan of exercise'. So, rather than forcing herself through a gym workout when she can't think of anything worse (which we all know will never end well), she instead goes for a run three times a week – 36 minutes each time (precise, we know). 'It's the one time I can be alone with my thoughts and clear my head,' she said.
4. Amanda Holden stays active on holiday
As we always say, health and fitness should be a lifestyle, not a quick fix, and although Amanda isn't exactly an exercise fan, she knows that it makes her feel good, and even keeps active on holiday. 'I try to swim and also fit in some yoga,' she said.
5. Amanda Holden does yoga on the reg
As well as practicing yoga while on holiday, she gets it in at home, too, after seeing the rewards following the birth of her daughter Hollie. 'When she was born, I'd been on a ventilator and had a lot of lung problems,' she said. 'Kundalini yoga is all about breathwork, so I took it on to build my strength. A lot of people advised me to do it for calmness, too. I don't really sit still, I'm always on the go.'
A wise move from AH – studies have shown that yoga can soothe the mind since the poses stimulating the glands responsible for regulating your hormones.
6. Amanda Holden exercises for energy
Amanda is one of those people who just never seem to stop, and she's previously shared that exercise – particularly yoga – helps her beat fatigue.
'There's one exercise called the Breath of Fire which is great for abs. But it's also a good pick-me-up when you're tired – honestly, it's better than a cup of coffee! My body got strong and any excess fat disappeared. It's definitely made my tummy flatter.' Go figure.
7. Amanda Holden exercises with her family
Working up a sweat with your family or friends is magic for motivation (you're right there to hype each other up), and Amanda recruited her husband Chris and two daughters Hollie and Lexi to exercise with her during lockdown.
'As a family we've not let this lockdown stop us from exercising,' she said on Instagram. 'It's actually become an essential hour of our daily lives. Whether it's a home workout, a bike ride, a run or even a walk around the park – working up a sweat is good for your mind, body and soul.'
8. Amanda Holden braves cold water swimming
The benefits of braving a dip in the sea run the gamut from supporting immunity to aiding weight loss and accelerating muscle recovery, and apparently Amanda is a fan. She previously shared this snap of herself on IG, before she dunked under.
This content is created and maintained by a third party, and imported onto this page to help users provide their email addresses. You may be able to find more information about this and similar content at piano.io
https://www.womenshealthmag.com/uk/fitness/a39786175/amanda-holden-diet-exercise/