We have gathered a selection of our top family room layout ideas to help you plan and design an inviting, well-thought out space in your home. 
The family room is a versatile, multi-purpose area that often has an array of different functions, so ensuring your layout ideas are well-thought out and match the size and style of your space will create an inviting, long-lasting room that is used and appreciated by the whole family. 
When planning your family room ideas, organizing the room layout should be a top priority. Your layout dictates the type and size of furniture pieces you need, and also helps you decipher the overall purpose and function of the room. Creating a functional layout that meets the needs of your family will ultimately make a comfortable and appealing family room that can stand the test of time.
Family room layout ideas
Explore our top 10 family room layout ideas below for some stylish and practical inspiration for your family room.
1. Zone the space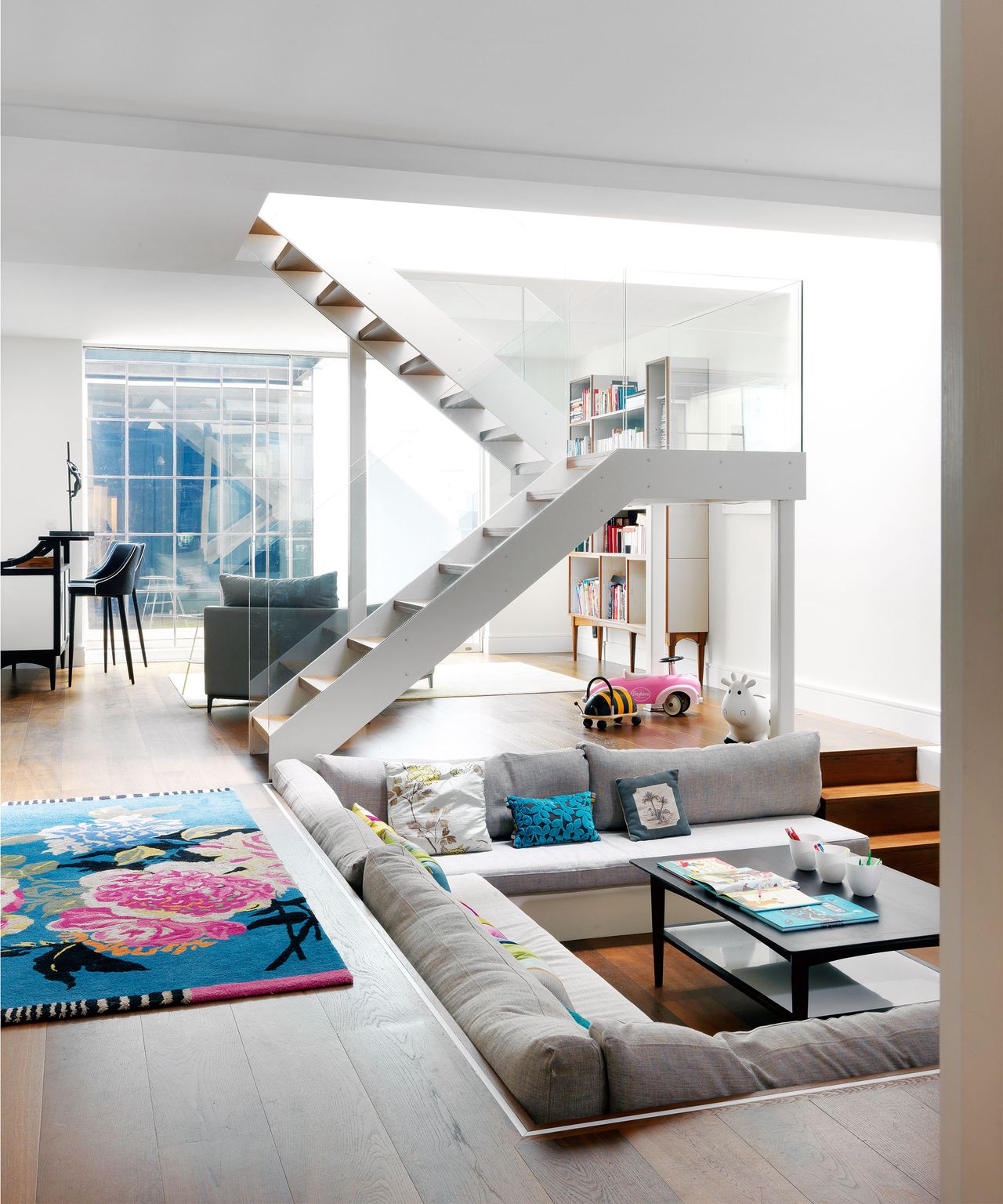 Whether your family room space is large and open plan, or small and cozy, using clever techniques to zone the space can create distinct areas for relaxing, play and entertainment. 
In this open-plan, converted basement, the area has been designed to create rooms within rooms, innovatively zoning the large space. The snug, sunken seating area creates an inviting family space, with the low leveled design enhancing feelings of calm and relaxation. Other features such as the glass panels and placement of the staircase create other subtle zones where there is a feeling of both togetherness and separation simultaneously – a design feature that some would say is an essential for their family room. 
If you opt for a striking sunken seating area or choose simple features such as screens or pieces of furniture, creating a zoned space will ensure the family room is used and enjoyed by all.
2. Plan the design around an original feature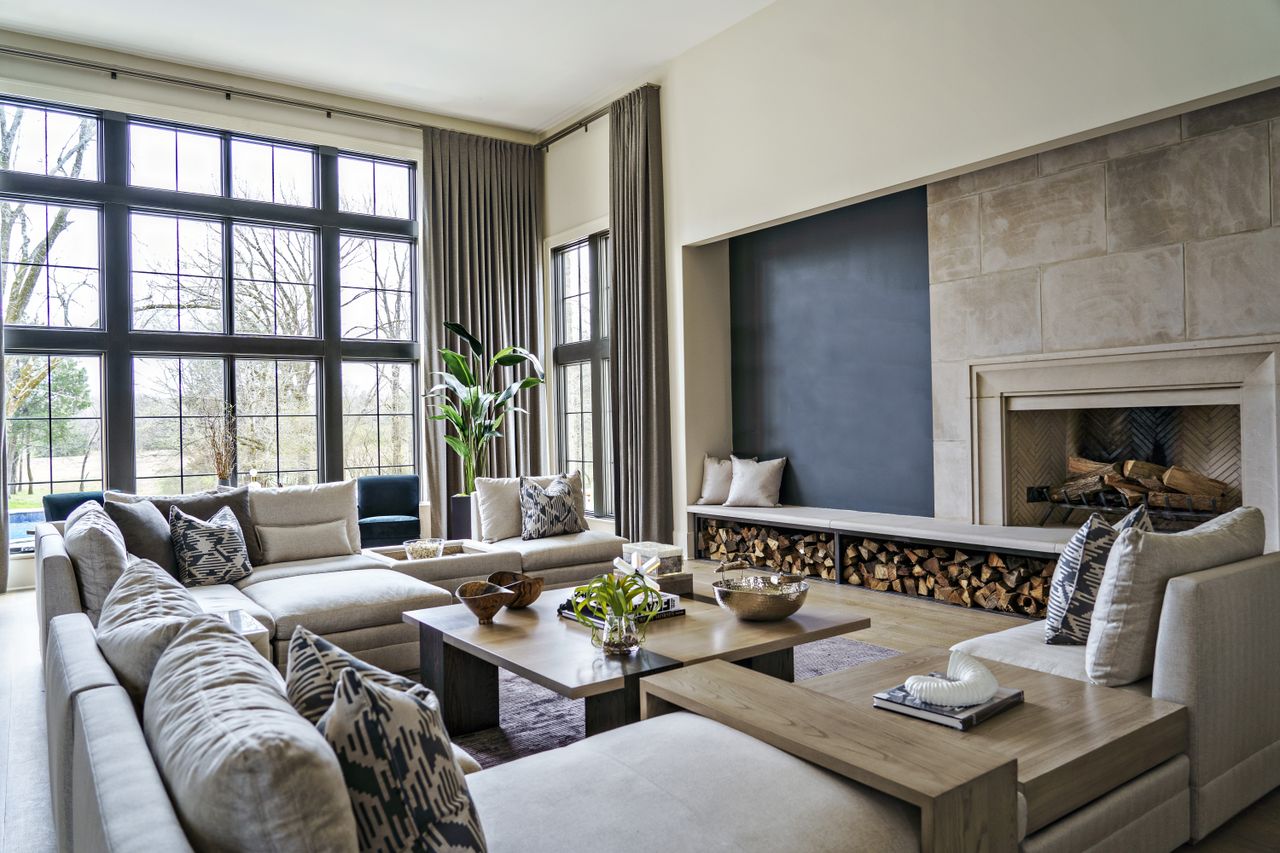 Using sectional living room ideas to focus on an architectural element is a great place to start if you're unsure on how to design the layout of your family room. Choosing an original feature, such as a fireplace, as the main focal point in the family room will allow you to simply organize your furniture and the design of the room to face in this direction, an idea often used for living room layout ideas.
'Fireplaces are renowned to create a cozy and inviting atmosphere, and are often the natural focal point in a room. Family room ideas with fireplaces can create a warming, intimate space where you instinctively gather round with friends and family,' says Homes & Gardens' Editor in Chief Lucy Searle.
Planning your family room layout ideas around an original feature will ensure that the design feels balanced and in keeping with the style of the room.
3. Make an open-plan space feel cozy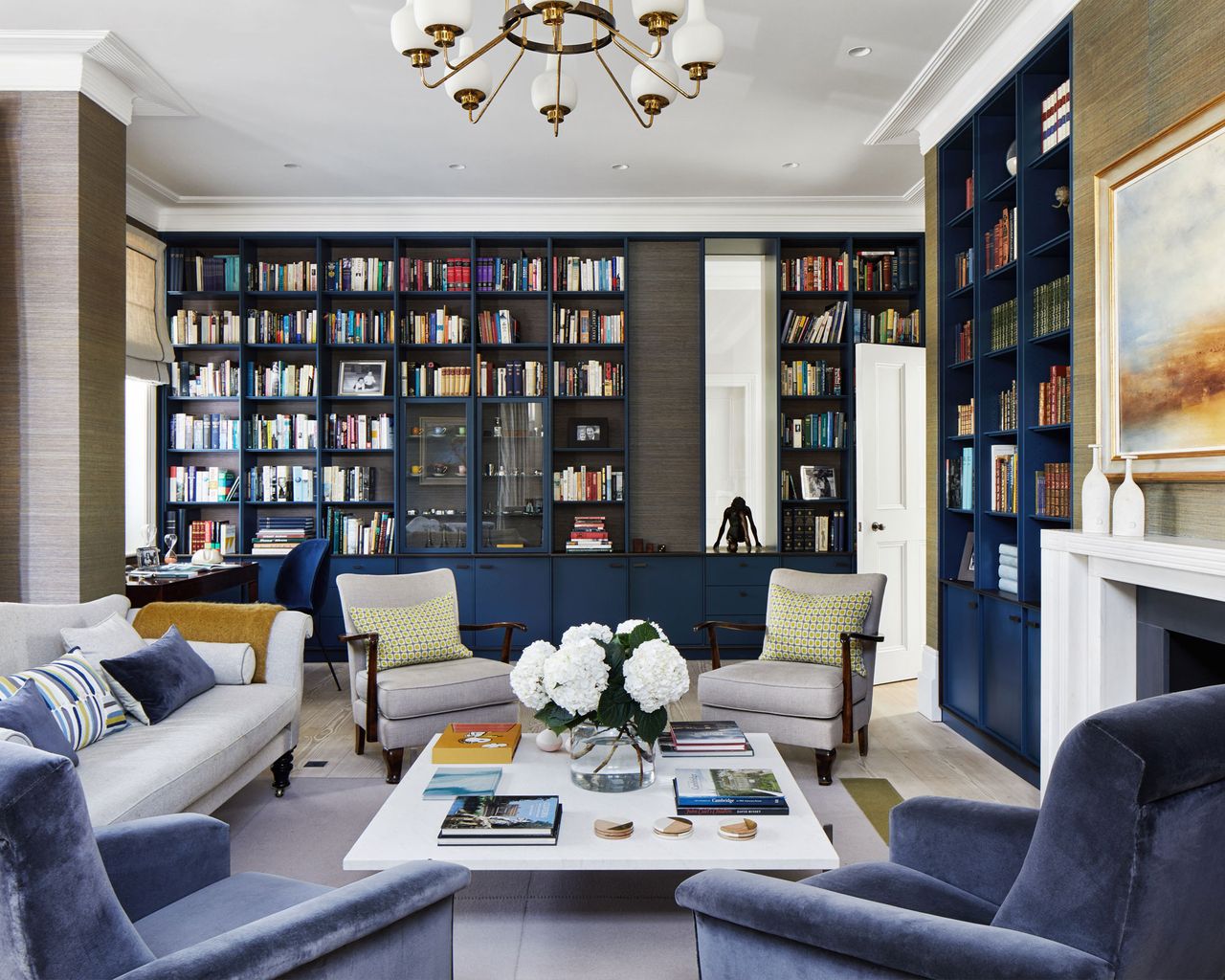 For large, open-plan family rooms, in order to create a feeling of coziness and closeness, positioning lots of seats together to establish a seating zone will create an obvious section in the room that is designated for relaxing. 
Instead of pushing your furniture and seating against the walls, planning your family room so your seating is gathered around a fireplace or TV is a great way to make a cozy setting in a large open-plan space. For family room furniture ideas, having lots of seating is always guaranteed to create a frequented, inviting space.
4. Embrace symmetry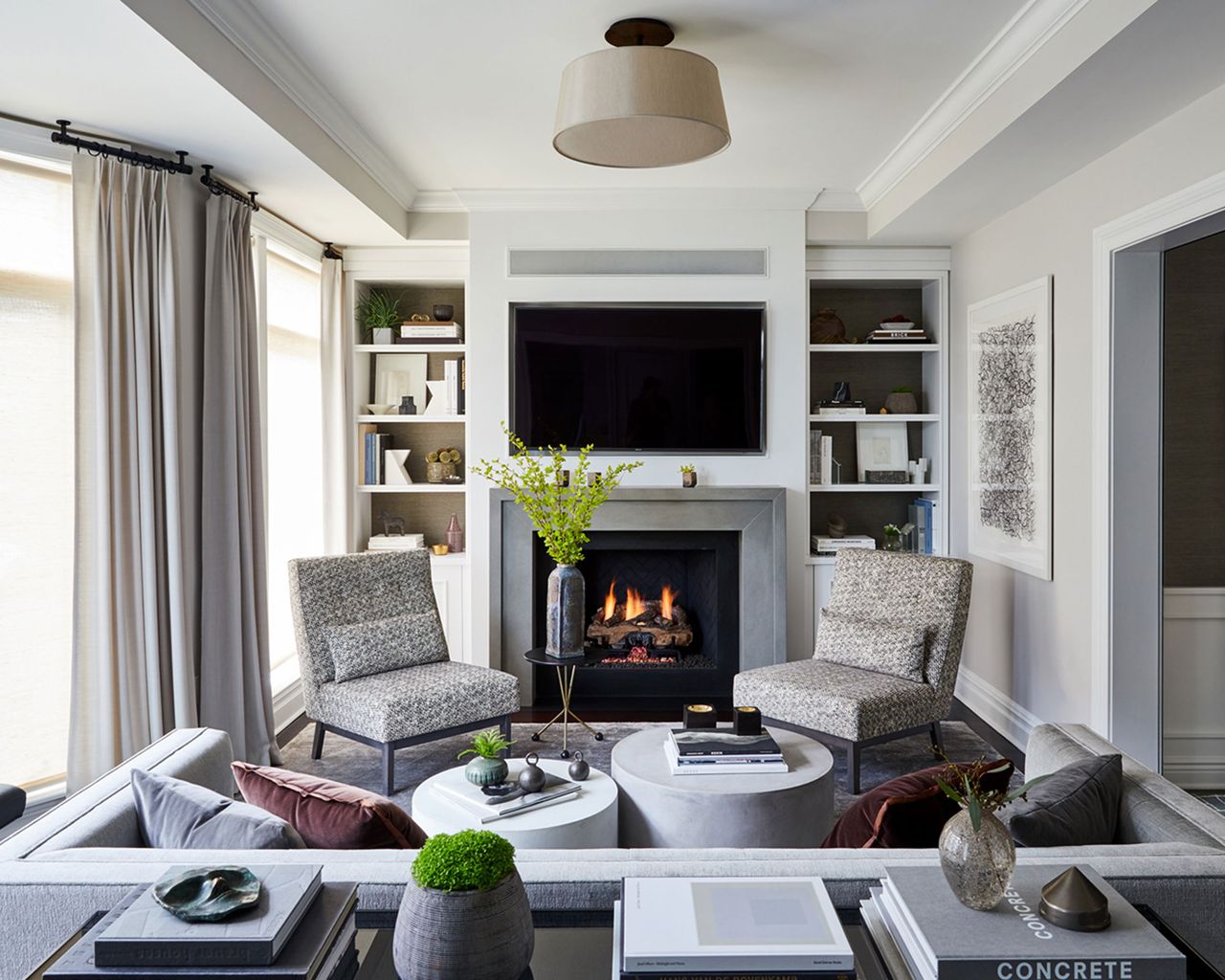 For a sophisticated, balanced look, embracing symmetry in interior design for your family room layout ideas will make for a smart and stylish layout. 
A simple trick that can create a calming and relaxed space, using symmetry is great for both small and large rooms alike, often making a room appear more spacious and streamlined.
The two shelving units and matching lounge chairs used in this living space by J. Patryce Design, create a harmonious atmosphere, they also work well together to make a feature and frame the fireplace and wall mounted TV – a layout idea to consider for family room TV ideas.
5. Use a room divider in an open-plan space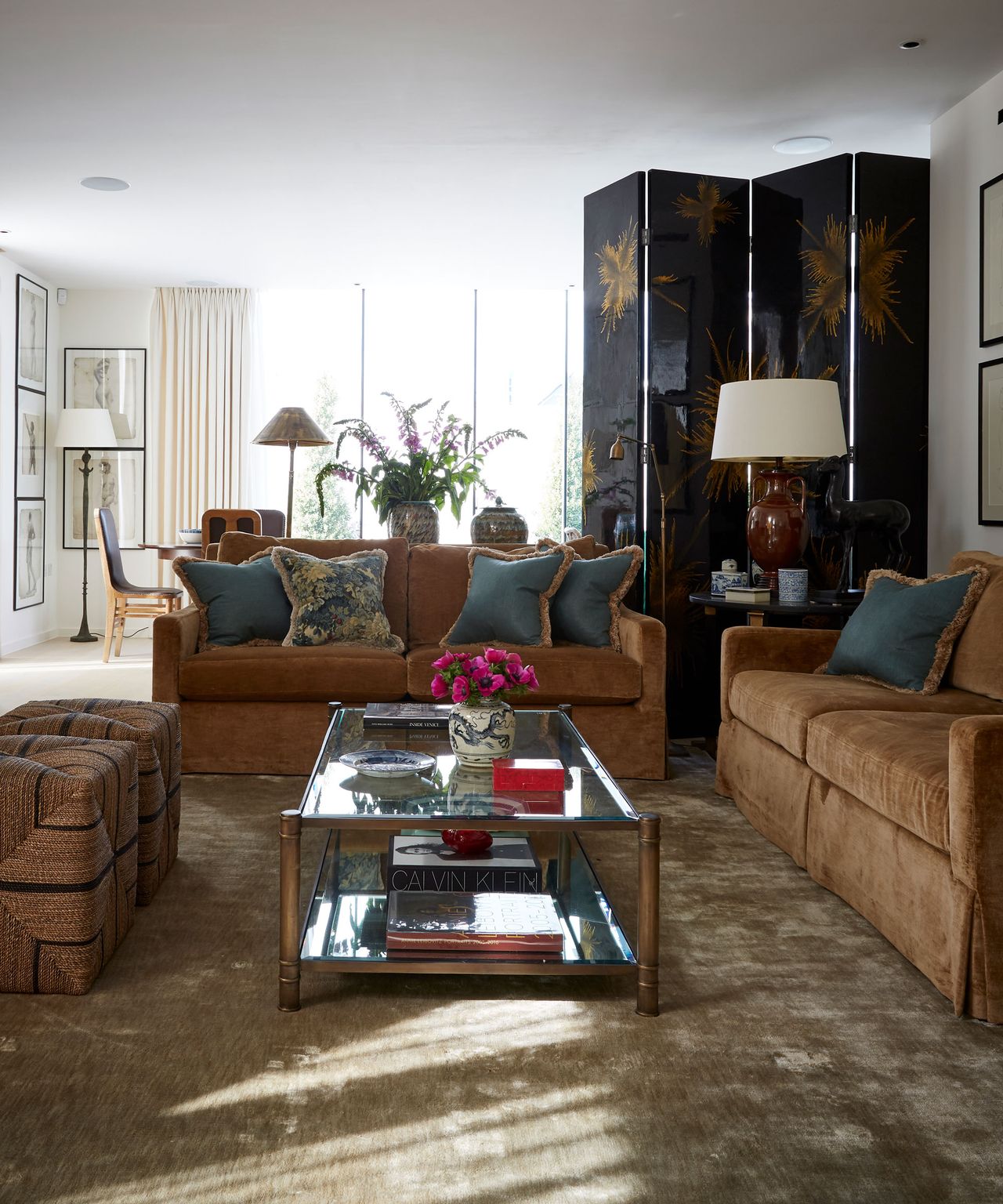 Room dividers, from folding screens to purpose-built partitions, can effortlessly transform the layout of a room. 
'A great zoning tool, ideal for a family room layout which is often a busy, multifunctional space, a room divider like this used by Paolo Moschino, can add a stylish element of texture, color and print, as well as be a practical furniture piece,' says Jennifer Ebert, Homes & Gardens' Digital Editor.
Perfect for separating a seating area from a play area, or creating a separate family space within a large, open-plan design, room dividers can be a multi-functional addition to your family room layout.
6. Play with scale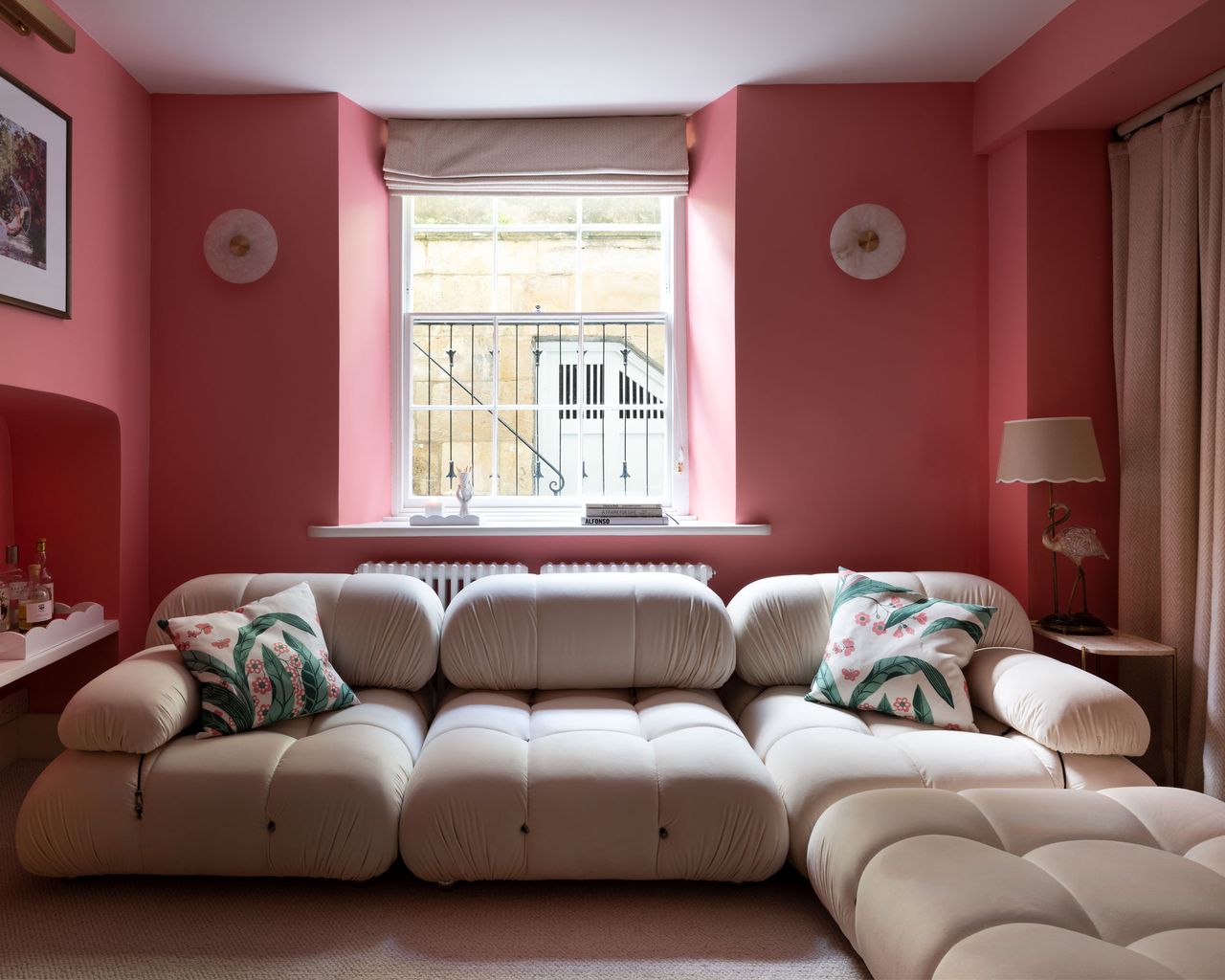 When considering scale in interior design, there are many options you can choose for the layout of your family room space. 
Whether you decide to upscale and use larger furniture pieces for drama and impact, or match to the proportions of your room to create the perfect ratio, working through different ideas can create a unique layout design for your family room.
In this striking living area in Laura Butler-Madden's Georgian townhouse in Bath, the beautiful sofa elegantly commands the space, creating a cozy environment that is perfect for a family or cinema room. 
Large-scale sofa designs are great for creating a statement seating area in a room. Larger furniture pieces, accessories and big patterns also work wonderfully in small spaces, often making the room feel bigger than it actually is.
7. Make the most of natural light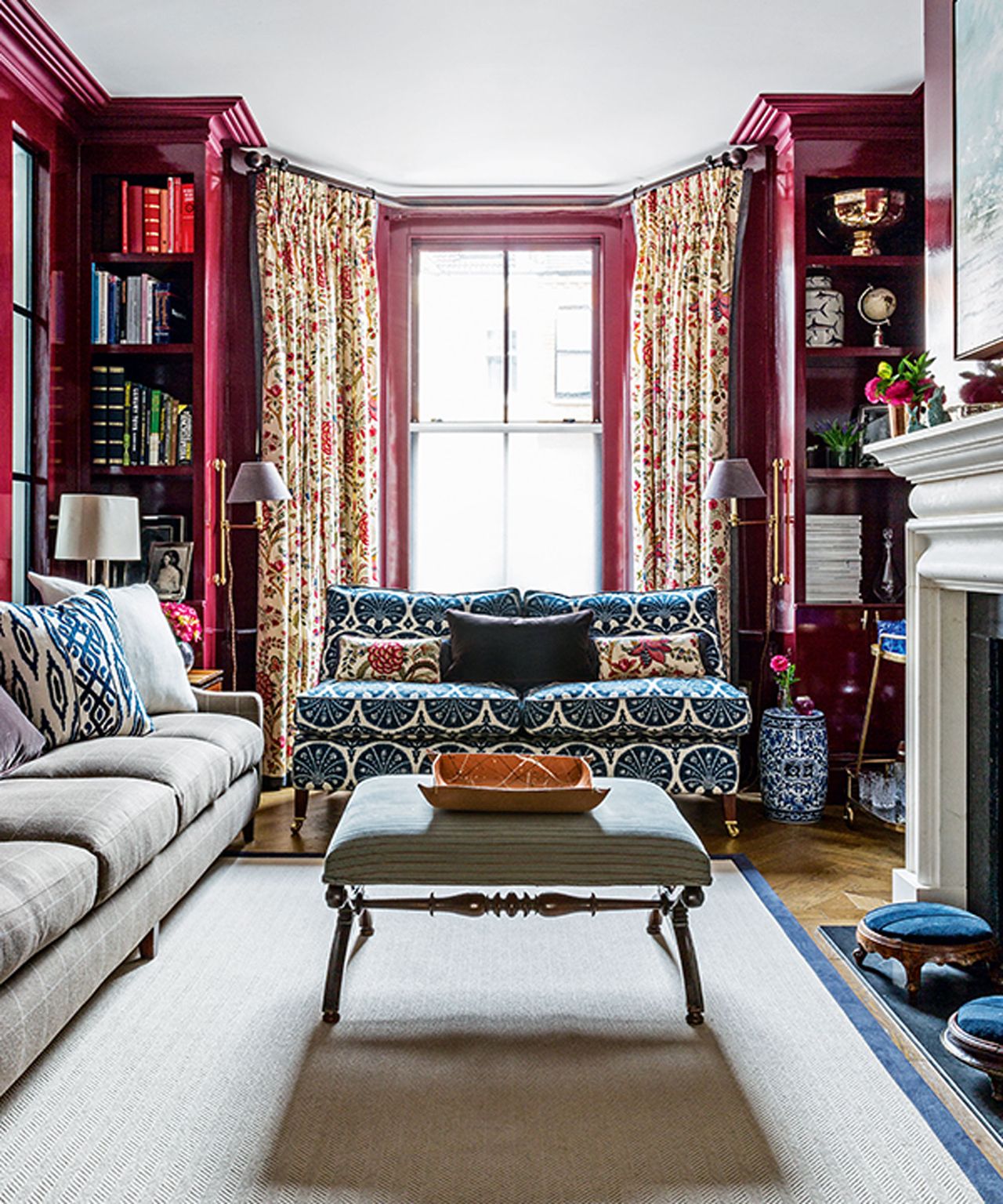 With natural light proven to make us feel happier and brighter, guiding your family room layout ideas to where there is lots of natural light will create an atmosphere that enhances feelings of relaxation and rejuvenation.
In this inviting living space, the seating area has been positioned by the large bay windows. The use of the deep, earthy palette also complements the bright space, creating a relaxed, cozy vibe that is perfect for spending time with friends and family.
8. Use mirrors to enhance the feeling of space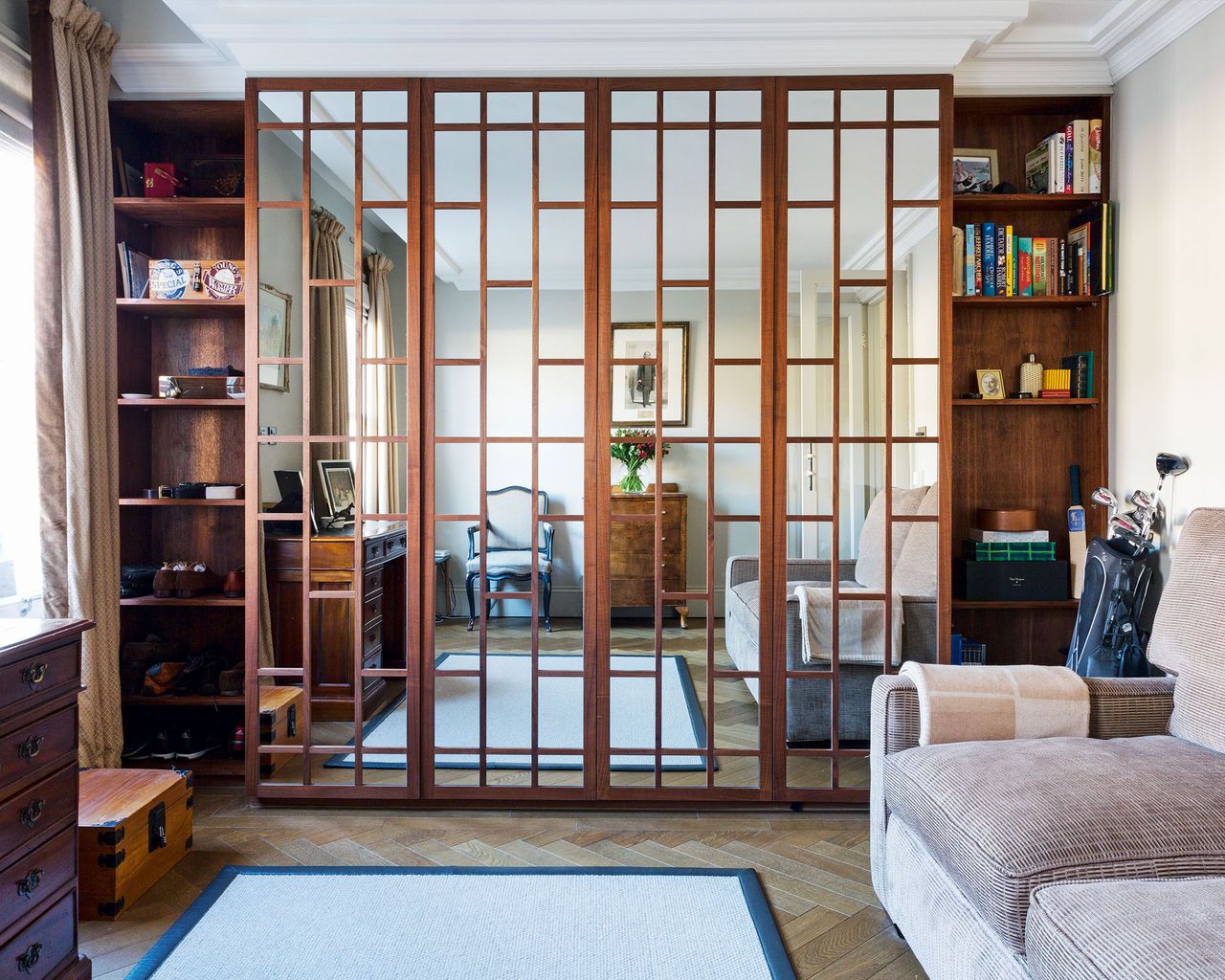 Mirrors are great for making a space feel bigger and brighter, and decorating with mirrors is a great way to enhance the layout and size of your family room. 
Whether you hang a mirror high above a fireplace, of create a standout, paneled mirror design like in the family room above, you can add depth and enhance the lighting in your family room whilst making a stylish, decorative statement.
9. Maximize alcoves and cozy corners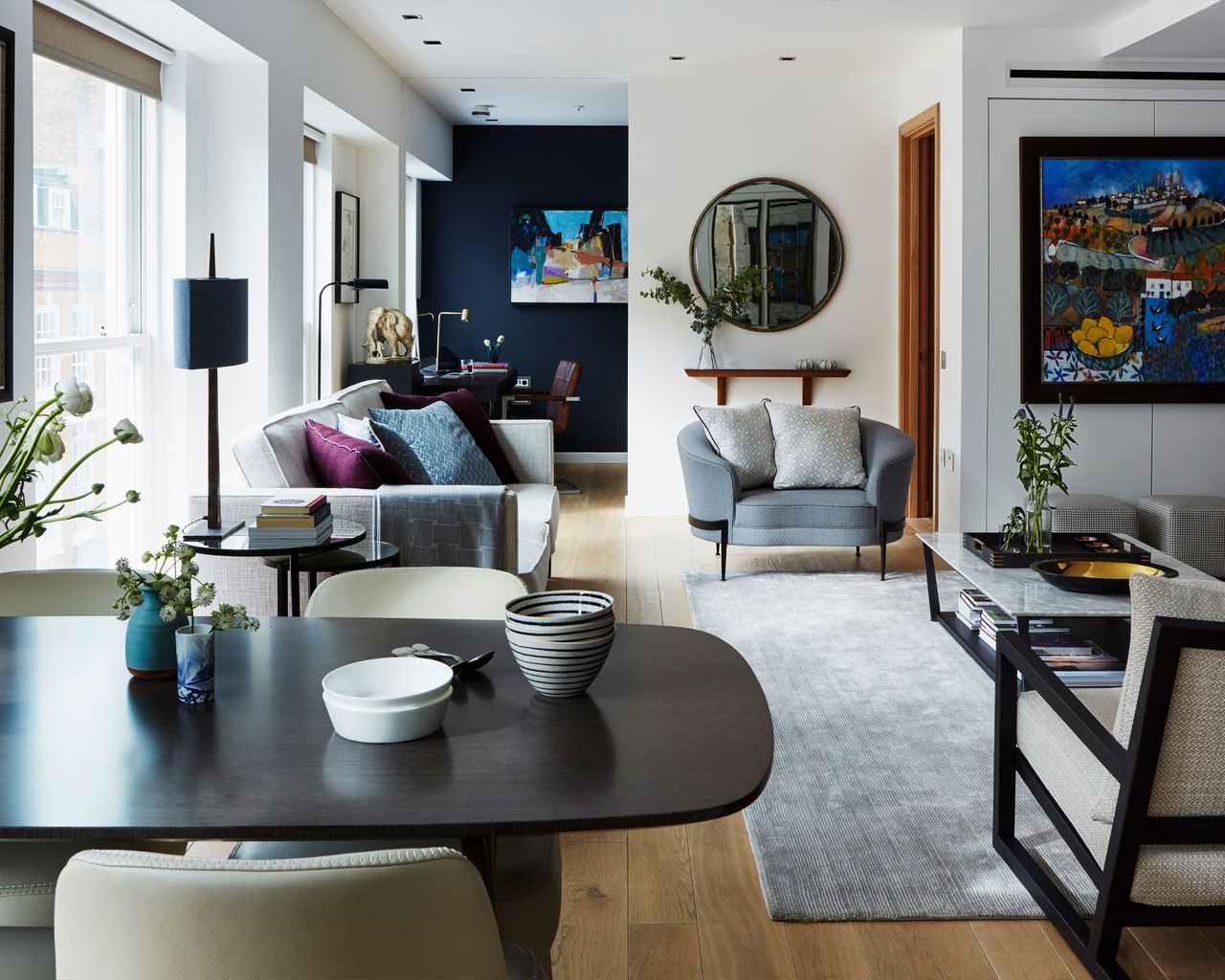 'If you are wanting to bring lots of different elements together in your family room, such as having separate zones for seating, play and entertainment, making the most of alcoves and cozy corners can create a versatile, multi-functional area,' says Andrea Childs, Editor, Country Homes & Interiors.
In this open-plan family room layout above, there are distinct areas for studying, relaxing and entertaining, as well as there being a clear walk through area, with the overall layout of this family room truly maximizing on all space available.
Whether you build a bespoke alcove desk, or create a cozy seating area in an awkward corner of a room, strategically placing your furniture, as well as using family room paint ideas, can help bring to life smaller areas and make the most out of the space in your family room.
10. Create an area for play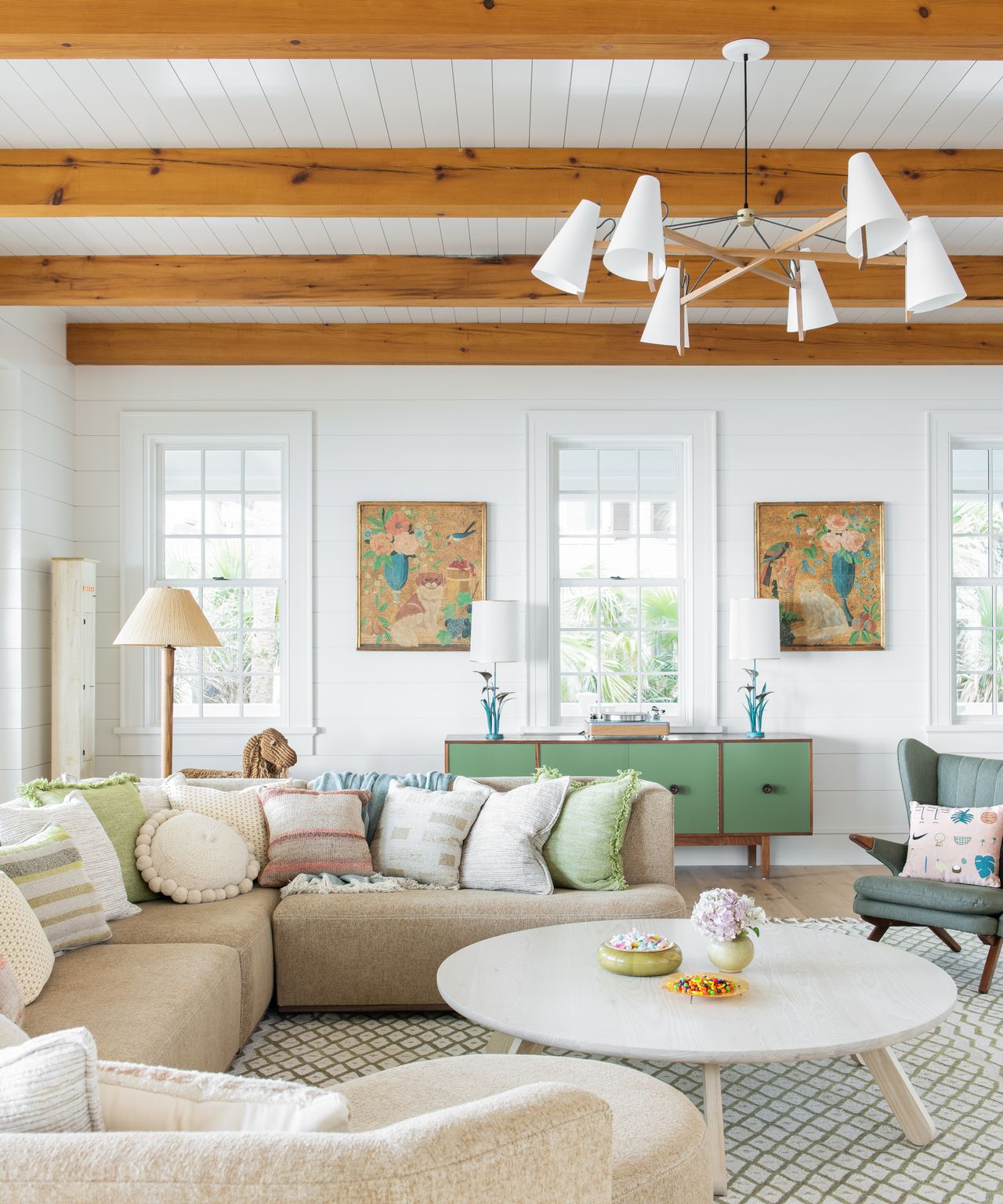 A simple layout idea that can work well in small family room with limited space is to position furniture so that it sits away from a wall with storage near it can be a great place for a child to play.
In the family room layout above by Carolina-based interior designer Cortney Bishop, the main seating elements have been placed with a gap between it and the buffet. Toys could be stored inside, with play space in front. Finished with a soft rug, adding a cohesive element to the overall design, the inviting floor space provides a great area for play. Meanwhile, a circular table makes for a wonderful focal point, promoting the sociable feel of the sectional.
How do I setup a family room layout?
Every family room layout is unique, so working out what the main, intended purpose of your space is going to be is the best starting point for your layout and setup ideas.
From a cozy snug, to a cinema or games room, once you have worked out the main function of the space, you can then start planning your furniture and layout ideas. 
Overall, you want your family room layout to create a space that's inviting and relaxed. Making sure your layout and furniture ideas create an area that the whole family can enjoy and relax in is always going to be the most important goal for your family room design.
https://www.homesandgardens.com/interior-design/family-room-layout-ideas