You might know GoDaddy for its unique marketing campaigns and solid reputation as a domain provider and website host. However, GoDaddy also offers a website builder that's extremely easy to use.
Who is GoDaddy Website Builder for?
GoDaddy Website Builder can create a website in under an hour, making it perfect for beginners. You can build a blog, informational site, or even an online store quickly and easily. With built-in marketing tools, GoDaddy makes building and optimizing a site simple, regardless of your knowledge or experience.
What you gain in simplicity, however, you sacrifice in creativity. In terms of look and layout, you'll find customization options extremely limited, and there's no app store for plug-ins and add-ons.
If you need to code and customize your site, GoDaddy isn't the best option. However, it can be a great choice for a no-frills, small business website.
GoDaddy Website Builder's features
GoDaddy Website Builder has all the essential, basic features covered. It offers a variety of themes, a highly intuitive editor, and a range of guided marketing tools.
GoDaddy themes
GoDaddy currently offers 22 theme options within the website builder. Every theme is mobile responsive, and GoDaddy suggests a theme for you when you get started. It even loads your theme with relevant stock images based on the industry you select.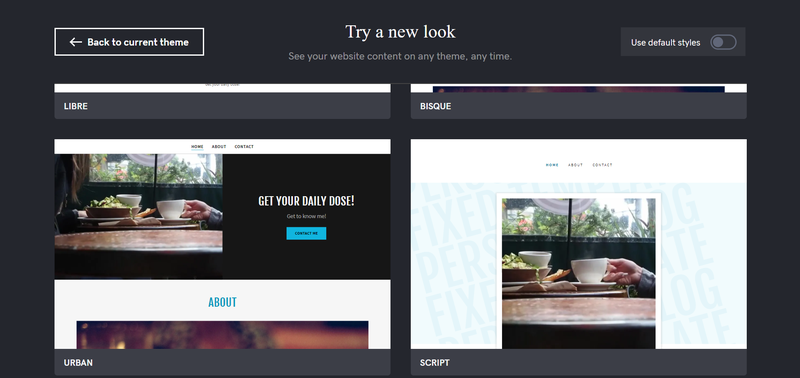 As you browse themes, you'll see a preview of your website's content with each theme applied. Most themes have a similar look, with slight variations in color, font, and default page layouts. To install a theme, you simply click Select. You can easily change themes with one click at any time.
Additional GoDaddy website templates with more distinct looks are available through GoDaddy's website, browsable by industry.
Click-to-add sections
GoDaddy Website Builder's editor is easy to use, with hundreds of ready-made, categorized sections. Sections are content blocks you can add to your pages, then rearrange by dragging and dropping.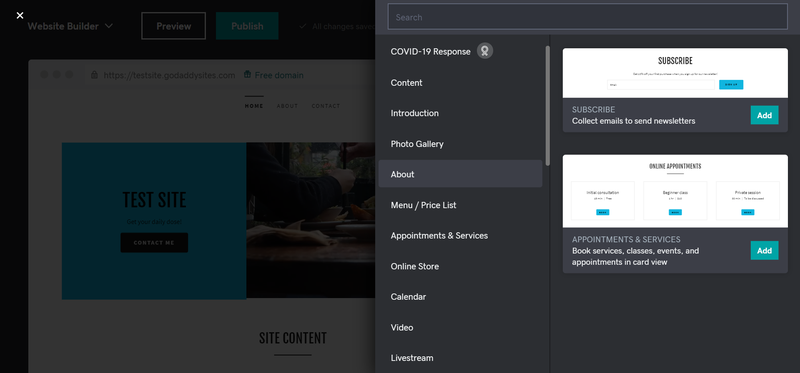 Sections include standard options like About Us, Contact, Privacy Policy, Social, Reviews, and Photo Gallery. You can also select more unique options such as a menu and price list, Zillow reviews, and restaurant online ordering powered by ChowNow. Like themes, sections can be added with one click.
GoDaddy's simplicity, unfortunately, limits customization options. You can choose only one font and one color for your entire website. When you select an accent color, you don't get to decide where it's applied.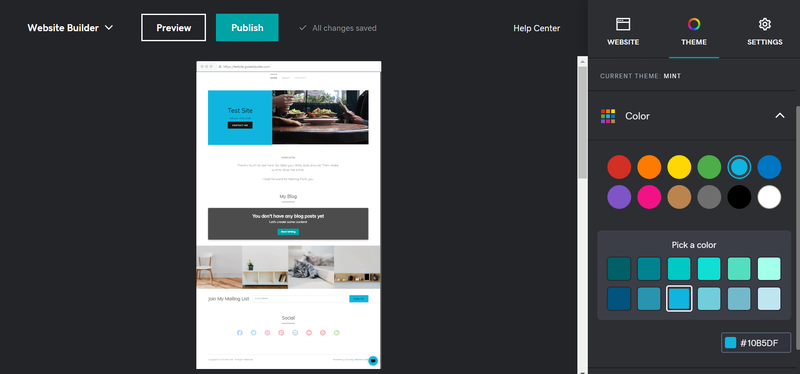 You can't add anything new to a section. You can move sections around and delete them, but customization stops there. For instance, you can't include an extra photo or even an additional paragraph within a section.
This lack of creative control can feel frustrating, especially if you're used to a content management system (CMS) like WordPress. If you're big on design and personalizing the look of your site, look elsewhere. But if simplicity in building pages and managing content is key, you'll love GoDaddy.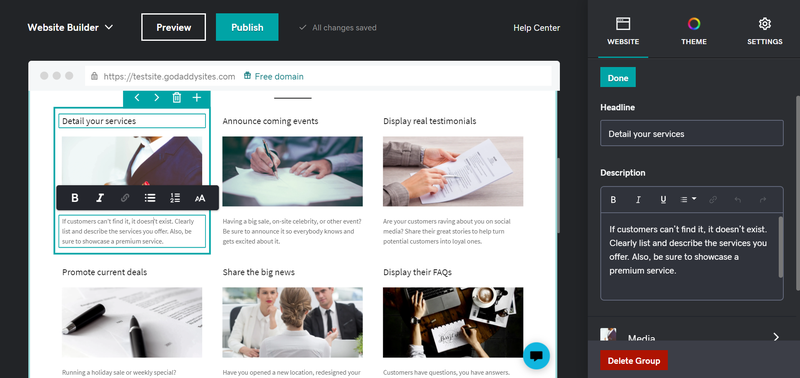 Guided marketing tools
GoDaddy Website Builder now offers Websites + Marketing, which includes a variety of guided marketing tools:
GoDaddy InSight: This tool compares and scores your site's performance to other sites in your space. It also includes metrics such as social media engagement and site views. It lets you select a few business goals, then provides a personalized action plan based on anonymous data from millions of other websites.
Search engine visibility: Click SEO in the Marketing drop-down menu, and GoDaddy guides you through a wizard. The wizard suggests keywords and phrases and populates your metatags and page titles.
Email marketing: All plans include a business email address free for one year. You also receive from 100 to 25,000 email sends per month, depending on which plan you choose.
These beginner-friendly tools help you get started optimizing, promoting, and managing your website. Create a website through GoDaddy's site builder and you qualify for a GoDaddy free domain.
E-commerce upgrade
To run an online store through your GoDaddy website, you must pay for the top-tier Ecommerce Plan, which costs $25/month, if billed annually. On the plus side, GoDaddy does not charge transaction fees. And as with setting up the rest of your GoDaddy site, creating an online store is extremely easy.
GoDaddy Ecommerce offers features such as product variations, abandoned cart recovery, discounts and coupons, digital products, and a variety of shipping and payment methods. You can sync with up to three external sales platforms.
If you want to run a simple online store, you'll have all the tools you need. Again, however, you will run into limited creative control. You can't sell directly via social media, and some features lack the quality of more established e-commerce platforms.
GoDaddy Website Builder's ease of use
When it comes to website building, it doesn't get any easier than GoDaddy. Apply themes and content blocks in one click, then delete or drag and drop as needed. Easily fill in content blocks with your copy, photos, or videos.
You'll also receive help optimizing and managing your site through built-in marketing tools available in your dashboard. These tools make SEO and tracking or analyzing metrics simple for beginners.
GoDaddy Website Builder's pricing
GoDaddy pricing is fairly standard, but lacks a forever-free plan. You can sign up for a free trial for one month, but you'll need to choose one of four plans: Basic, Standard, Premium, or Ecommerce.
The basic plan costs $10/month, while the top-of-the-line Ecommerce plan costs $25/month — all prices when billed annually.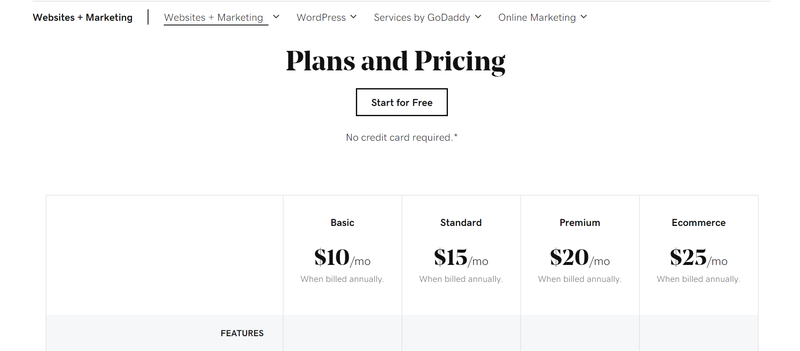 Higher priced plans include increased social media and email marketing functionality, online appointment booking features, and e-commerce options.
With both Premium and Ecommerce plans, social media platforms and social posts are unlimited, and let you send 25,000 emails per month. You also have access to the same online booking features with both plans. All e-commerce features are available exclusively through the Ecommerce plan.
Overall, GoDaddy Website Builder's pricing aligns with competitors. But if you need more customization, you may want to go with a free or comparably priced offering from another site builder.
GoDaddy Website Builder's support
GoDaddy tech support is thorough, with community forum, informative Help Center, and 24/7 phone and chat support. It also has a unique How-To section featuring video courses on a wide variety of topics.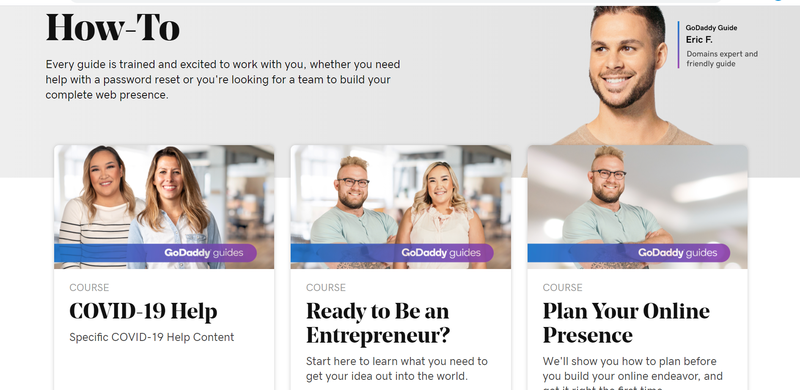 There's no email option, and call wait times vary drastically. Many users also report frequent issues with GoDaddy chat support being offline.
Benefits of GoDaddy Website Builder
GoDaddy Website Builder is an ideal solution if you need to build a simple website without coding or investing in a complicated infrastructure. It offers all the essential tools and features you need without the bells and whistles.
You'll also find helpful, built-in SEO, analytics, and email marketing tools for beginners. With solid support, competitive pricing, and optional e-commerce features, GoDaddy Website Builder meets the basic needs of any website.
GoDaddy makes website building a breeze
Creating, editing, and optimizing a website isn't easy, but GoDaddy Website Builder simplifies the process.
You won't find the customization of builders like WordPress or Wix, but there are enough options to create a site that's uniquely yours. Some beginners who don't want to feel overwhelmed consider even limited customization a plus.
You'll also get built-in help with site optimization. GoDaddy offers a wide variety of standalone courses on topics such as website security, SEO, email marketing, and planning your online presence. Whether you're hesitant about building, maintaining, or marketing your site, GoDaddy will guide you step by step.
https://www.fool.com/the-ascent/small-business/cms/godaddy-website-builder-review/