MRANTI Park, the nucleus for R&D&C&I (research, development, commercialisation and innovation) in Malaysia, will soon receive an upgrade. This hub accelerates innovation on the back of 'impact technologies' in key industry sectors for sustainable development. Amidst much fanfare, Malaysian Prime Minister, Dato' Sri Ismail Sabri bin Yaakob has inaugurated the MRANTI Park Master Plan which will focus on three core areas of development– Innovation, Environmental Sustainability and Urban/Local Culture. What does this tech park's refurbishment mean for the Science, Technology and Innovation ecosystem of Malaysia and how is it going to boost investments? We take a look at the details.
Headquartered at MRANTI Park, an extensive 686-acre 4IR (The Fourth Industrial Revolution) innovation hub in Kuala Lumpur, the Malaysian Research Accelerator for Technology and Innovation (MRANTI), a convergence of Technology Park Malaysia (TPM) Corporation Sdn Bhd and the Malaysian Global Innovation and Creativity Centre (MaGIC), is Malaysia's central research commercialisation agency that fast-tracks the development of technology innovations from ideas to impact. It serves as a connector, incubator and catalyst to enable early-stage ideation to mature entities to commercialize and scale. MRANTI also offers innovators and industry access to world-class integrated infrastructure, interventions & programmes, partnerships and a suite of resources to expand Malaysia's funnel of innovation supply, and unlock new R&D value by ensuring effective transitions in the commercialisation lifecycle.
In the face of a post-pandemic and troubled global economy the demand for technology and innovation has been hastily increasing. With digital adoption and process automation defining the new normal, the ground is fertile for exciting breakthroughs in smart manufacturing, biotech, agritech, green tech, smart cities and more. Given the current climate, building infrastructure to support these opportunities is imperative, hence the proposal for revamping MRANTI Park has been unveiled at the right time. 
"With this Master Plan at MRANTI Park, MRANTI will nurture Malaysia's capabilities in 4IR (The Fourth Industrial Revolution) and rapidly developing technologies from IoT (Internet of Things) systems, end-to-end intellectual property (IP) services and laboratories to contract manufacturing facilities with advanced technology," said Dzuleira Abu Bakar, CEO of MRANTI. The refurbished technology park, powered by 'impact technology' is positioned to attract young professionals, as well as create a stable funnel for highly skilled talent. Modern infrastructure, including high-speed broadband and 5G technology; universities or research-intensive institutions; as well as incentives and funding opportunities are some of its salient features.
Impact technology refers to the intentional use of science and technology to benefit people and the planet. This emerging sector is growing under the influence of several factors including talent convergence between the tech and impact worlds, a feeling of emergency with regards to global challenges, economic incentives, the growing influence of new generations as consumers, workers, and investors, and the possibilities offered by emerging technologies.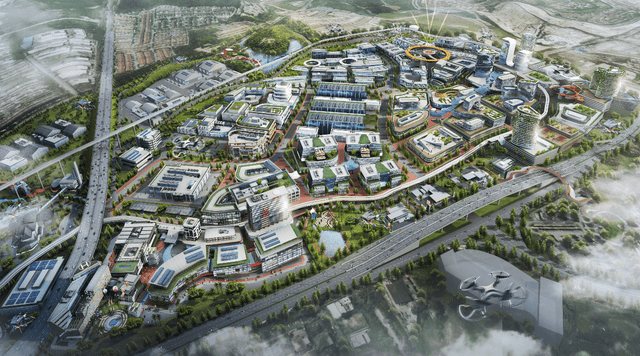 With a development area 10 times bigger than Kuala Lumpur Sentral, MRANTI Park is the first and currently only 5G infrastructure ready innovation park in Malaysia to support AI related activities and development. Its secure and confined environment is designated for Sandbox and live testing of UAV (unmanned aerial vehicle).
The Park offers facilities which enable everything from ideation to prototype to commercialized product. In terms of 5G connectivity, the Park has an MoU with Huawei, Digital Nasional Berhad, Ericsson, Telekom  Malaysia and  TNB. The community includes Novozymes Malaysia, Securemetric Technology, Plus Xnergy Services, Sartorius Stedim Malaysia, Terra Drone Malaysia, MIT Innovation and ACGT. The Park also houses the Asia Pacific University of Technology and Innovation.
MRANTI Park is located within the city, only 15km away from Bandar Malaysia, a city that will become a global business hub and catalyze the transformation of Greater Kuala Lumpur.
It is where researchers, creators and innovators are brought together to nurture ideas into industry-changing products and services. The Park will be the centre of activity for collaboration, serving as a springboard for new ideas and creative solutions that can be accelerated for commercialisation. Co-location is important to reinvigorate the innovation ecosystem.
The new provision of infrastructure and utilities with an estimated construction cost of USD$106 million will oversee development based on SDG/ESG (Sustainable Development Goals/Environment, Social and Governance) pillars and reflect global sustainable development principles. The plan will facilitate application of the cluster approach to synergise the multi-segment of tech & innovation.
This integrated park and its open space will harmonize biodiversity between human activities and unique species such as smooth-coated otters, wild boars and migratory birds. Overall it will be a new lifestyle design for a sustainable, vibrant and inclusive working environment.
The new infrastructure & utility development is expected to be completed by 2025. The overall development (various clusters and buildings) will be progressively constructed according to the investment pipeline and schedule.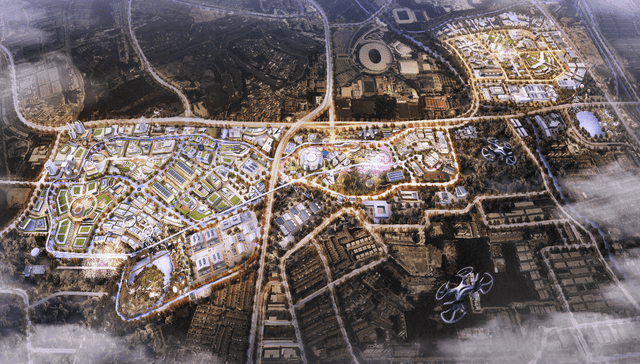 "It is important to provide an innovation-centric location with a strong infrastructure through an integrated co-location concept. MRANTI Park will be a meeting point for innovators, researchers and investors. Thus, it can bring together key stakeholders and strengthen the STI ecosystem. The combination of these factors can attract foreign and domestic direct investment that is needed to improve the STI ecosystem and at the same time develop the national economy," Dzuleira said.
"This 686-acre area has attracted the interest of many technology companies, including Intervenn Biosciences, Dedikasi Aba Biosciences, BoomGrow, Spygene Laboratories, Vivantis Technologies and Reszon Diagnostics. In fact this year, several international technology companies have started serious discussions with MRANTI to establish a foothold here", she added.
As part of the United Nations 2030 Agenda for Sustainable Development, ESG and SGD have gained momentum and popularity in recent years with investors who want to invest responsibility while still making a profit. Taking this into cognisance, MRANTI Park will also be developed in accordance with the principles laid out by the UN for ESG and SGD. The park intends to serve as a viable innovation center and technology hub based on sustainable and clean concepts and act as an inspiration and a catalyst for market-driven innovation through smart partnerships and ecosystems.
Dzuleira said, "This is in line with our country's aspiration to become a carbon-neutral and zero Greenhouse Gas emission country by 2050, preserve natural forests and implement nature-based solutions to reduce the long-term impact on the environment including planting 100 million trees by 2025."
Furthermore, she said, "The commercialization of technology is able to put Malaysia in a better position in dealing with the issues of the valley of death R&D, further seen to be able to increase the gross expenditure on research and development (GERD) by attracting private sector investment."
If you would like to know more about MRANTI Park reach out to: [email protected].
https://www.dealstreetasia.com/partner-content/mranti-park-to-get-a-revamp-enhance-malaysias-tech-innovation-ecosystem