This article was published in the September 2022 issue of Pet Food Processing. Read it and other articles from this issue in our September digital edition. 
In the pet food processing industry, it's not at all uncommon for the manufacturing of freeze-dried pet food products to be a multi-site production process. Meat and ingredient processing is done at one location; freeze drying is performed at another site; and packaging is completed at yet another location.
Companies offering each of these services work together to get product made and brands are able to offer their pet food and treats to customers around the country without fail. This system works, and countless pet food companies have been taking advantage of this production process for years.
In 2019, Scoular set out to streamline this process with its plans to build a new $55 million, 105,000-square-foot manufacturing facility in Seward, Neb., to co-manufacture freeze-dried ingredients, treats and complete-and-balanced diets for the pet food industry. The new plant and indirect, wholly owned subsidiary of Scoular — Petsource by Scoular — offers a one-stop shop for freeze-dried pet food production.
"For many decades, Scoular has been focused on providing ingredient solutions for our customers in the food segment, both human and pet food," said Amy Patterson, president of Petsource by Scoular. "We saw the opportunity to provide a streamlined manufacturing solution for finished freeze-dried pet food, whereas in the past, those manufacturing steps may have occurred in multiple facilities and with multiple touch points."
For years, Scoular, a 130-year-old employee-owned company with more than $9.7 billion in sales, has been in the business of buying, selling, storing, handling and processing grain and ingredients, as well as managing transportation and logistics worldwide. Pet food had long been one of the many industries the company supported with its ingredients but, prior to the creation of Petsource, the company had never been on the front end of the manufacturing side of pet food products.
"We have a leadership team with over 100 years of food processing experience from Fortune 100 food manufacturing companies," said Amy Patterson, president of Petsource by Scoular.
With the pet food industry's sustained growth year after year, and more companies looking to develop more product options for pets, Scoular customers were looking for more capacity in the freeze-dried pet food and treat marketplace. Petsource was the solution they were looking for.
"Scoular had supplied the pet food industry with ingredients for years — those were our previous customers," Patterson said. "In 2017, the company had an idea. Take the freeze-dry supply chain and put it all under one roof. Bring in raw material expertise with all freeze-dry manufacturers under one roof."
The creation of Petsource allowed Scoular to marry the knowledge it had from the raw materials side of the business with expertise from the manufacturing side. The Seward plant is an end-to-end solution combining ingredients, meat processing, freeze drying and finished packaging solutions.
"We can do everything from procurement, blending, off-site HPP (high pressure processing), freeze-drying and packaging all at this location," said Jon Heussner, vice president of operations. "It's truly an end-to-end process."
Meeting demand
Amid increased pet ownership across the country and a continued trend toward alternative premium pet food formats, Scoular's decision to enter the freeze-dried pet food and treat market was no accident — it was a simple act of supply and demand.
"The raw, freeze-dried pet food emerging trend is so popular right now," Heussner said. "There's a big demand for it, and we're helping to support that demand."
The freeze-drying process protects and maintains the nutrition and taste of the pet food ingredients, maintaining the raw product state, while extending the product's shelf life without added preservatives.
"The utilization of freeze-drying technology for food manufacturing has been growing in the pet space for good reason — this is a gentle process which preserves the vitamins, minerals and nutritional value of the protein and ingredients in each recipe," Patterson said. "After freeze-drying, the food is shelf-stable and a convenient, on-the-go feeding or treat option for our active pet owners. 
"We are excited to help support the growth in the freeze-dried pet food segment," she added.
As the trend toward humanization of pet food continues, pet parents are looking for more nutrient-dense, high-protein, raw formulations.
"The humanization of pet food has been going on for five or so years now," said Chad Kucks, vice president of sales and supply chain. "Consumers are looking to treat their animals more like family members — 'If it's good for me, it's probably good for my dog too.'"
More of today's consumers are searching for cleaner products for themselves, as well as for their four-legged family members.
"Freeze-drying is a cleaner process — it keeps the vitamins and nutrients in the food, so you don't need added ingredients," Kucks said. "These are the healthier products pet parents are looking for."
Up and running
Scoular chose Seward — just 75 miles away from its Omaha, Neb., headquarters — as the site of its new manufacturing facility designed to develop, procure, freeze-dry and package high-protein ingredients as a contract partner for pet food manufacturers.
"The relatively close location to raw material sources, availability of a solid workforce, community involvement and incentives were all key factors in our decision to choose Seward," Heussner said. "The city of Seward was expanding its manufacturing footprint and we were able to become an anchor tenant in its newest economic development site."
Construction on the 105,000-square-foot plant in the Seward/Lincoln Regional Rail Campus was completed in early September 2020 and the facility was up and running one month later. The plant features six main production lines: raw meat blending, ingredient blending, forming and dicing, freeze-drying, bulk packaging and retail pouch packaging.
Currently staffed with 100 employees, the facility houses 63,000 square feet devoted to processing, 5,000 square feet of packaging space, and 25,000 square feet and 12,000 square feet of warehouse and office space, respectively.
The flow of product through the processing and packaging starts with frozen proteins and dry ingredients entering the receiving area of the plant. Petsource uses beef, poultry and fish in its products, which are brought into the plant in 30- to 50-lb blocks and boxes. Most of the product is supplied from Midwest suppliers within 200 miles of the plant.
The plant features both raw and ready-to-eat (RTE) entrances in order to keep product separated and safe from contamination. Each side of the building is color coded — red for raw and gray for RTE. The color coding is represented from the floor to the sanitation sites to the clothing the operators wear. The locker rooms, break rooms and production rooms are also specific to the workers' raw or RTE work zones.
"The relatively close location to raw material sources, availability of a solid workforce, community involvement and incentives were all key factors in our decision to choose Seward," said Jon Heussner, vice president of operations at Petsource by Scoular.
After entering the plant, all products (both proteins and dry ingredients) are evaluated through the company's SafeFood 360 processes and entered into the enterprise resource planning (ERP) system.
"Extensive pathogen testing of products at various stages of our production process and throughout the environment (i.e., food contact surfaces, non-food contact surfaces, air and water) is a foundational pillar to our food safety culture," Heussner said. "A comprehensive pre-op micro-swab program verifies our sanitation effectiveness each day prior to production starting. We have our own sanitation team with seasoned leadership in the food processing industry that brings a wealth of knowledge and practical experience to ensure the 8 Steps of Sanitation are completed each day."
After passing through the ERP system, materials move on to raw processing for pre-weighing and blending. Product is then mixed and extruded into 8-lb chub casings, placed into baskets, palletized and then prepared for shipment offsite for high pressure processing (HPP) at Universal Pure just 30 minutes away in Lincoln, Neb.
"With raw product going out, we are mindful that food safety is maintained all the way through the process," Heussner said.
Product is usually returned to Petsource in three to four days following the HPP process and pathogen testing at Universal Pure. After returning to the plant, the chubs are placed into staging coolers on the RTE side of the facility.
When the product reaches the appropriate temperature, it's ready for forming. The product is removed from the casing, conveyed to the grinder and then pumped into the forming system and dispensed into various shapes.
Next, product is conveyed to the spiral freezer and discharged into 800-lb totes after the freezing process is complete. After one to two days in a buffer freezer, the product moves on to the freeze-drying stage.
The totes are then dumped into hoppers and product is weighed and discharged onto freeze-dry trays. Each tray is hand-loaded onto a trolley, attached to an overhead rail system, then loaded into the freeze drier one at a time.
Each freeze-dry cycle is unique to the product formula designed by the research and innovation team, and creates product that is shelf stable for two years or more. After freeze-drying is complete, trolleys are removed, and product is returned to the totes to move onto packaging.
Sixty percent of Petsource's current product mix is packaged in bulk, in corrugated 400- to 600-lb totes. Other product is packaged into 40-lb bulk boxes or into 6- to 16-oz retail-ready pouches.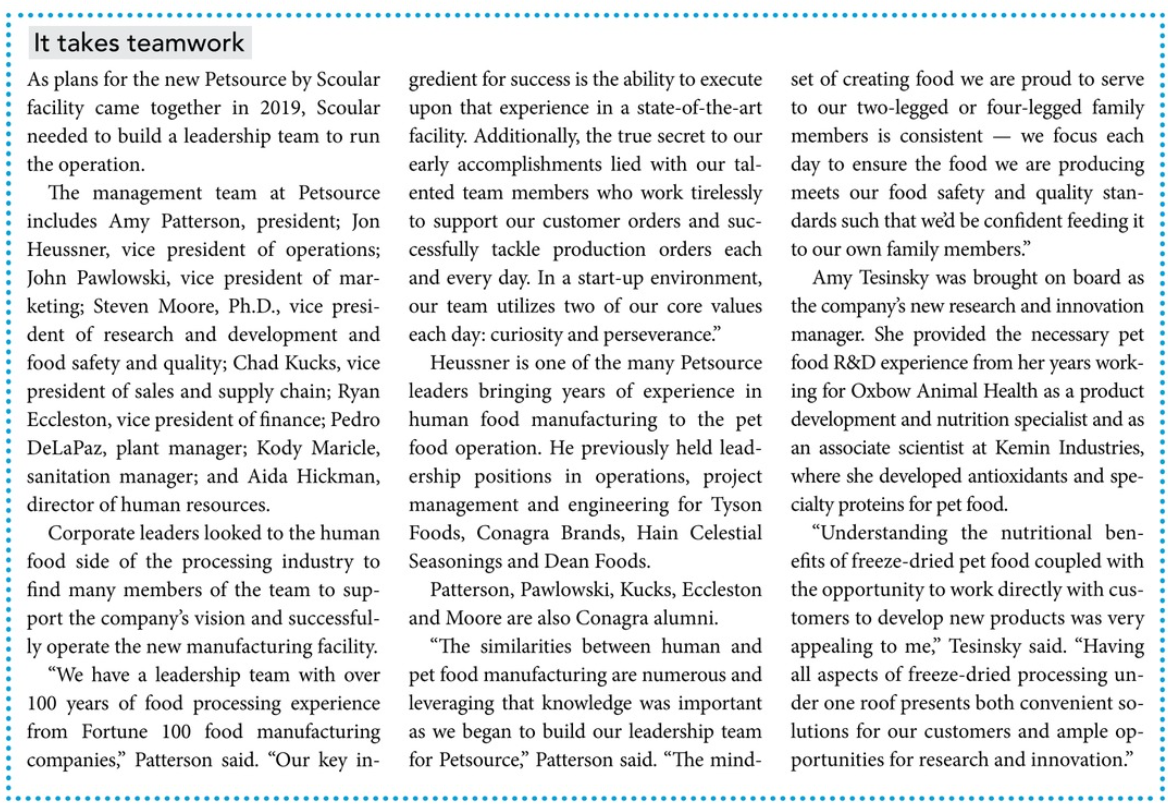 Food safety and quality
Throughout the production process at Petsource, food safety is top of mind.
"All products move through metal detectors at multiple stages of the process, to ensure each stage is foreign material free," Heussner said.
Pathogen testing is conducted during every shift, and complete washdown sanitation is performed at the end of each shift.
"There is more pathogen testing here than any other plant that I've been to, because we protect the raw state of the product at each stage of the process," Heussner said. "Our food safety team reviews quality data and trends daily and this plays a critical role in making fact-based and timely decisions for action plans to be completed."
The food safety and quality standards at the plant are what sets Petsource above many of its competitors.
"We sell capabilities to our current and future customers — and food safety and quality are our top priorities," Kucks said.
The Petsource facility in Seward is SQF certified and earned an Excellent rating for the food safety and quality modules in each of the first two years in operation.
"We are excited to help support the growth in the freeze-dried pet food segment," said Amy Patterson, president of Petsource by Scoular.
Steven Moore, Ph.D., leads the food safety and quality side of the plant and also the research and innovation team. Current and potential Petsource customers are given the opportunity to work with the innovation team to fine-tune existing product recipes and to develop new ones. The plant's testing laboratory, manned by a team of four, provides the necessary tools needed for product development.
"Some of our brand owners are new to freeze-dried products and need new recipes developed from scratch, while others are coming up with their own recipes and just want our help prepping them for our systems," Patterson said.
With 10 years of experience in product and nutrition development for the pet food industry, Amy Tesinsky works with Moore in the plant's R&D lab as the research and innovation manager. Tesinsky helps develop new product recipes and runs test batches through the scaled-down laboratory. The lab features a small grinder and mixer and mini freeze drier so products can be tested and analyzed before being scaled up for production. The freeze-drying times in the lab are identical to those on the production floor to ensure accuracy.
An in-house NIR (near infrared) machine helps analyze nutrients in product recipes to ensure they contain the correct ratio of protein, fat and fiber to provide the pet food's nutritional needs the customer is looking for, while also meeting AAFCO (Association of American Feed Control Officials) pet food requirements.
"On the human side we can choose what to eat, but with pet food we need to be sure the animal is getting what they need," Patterson said. "We can provide them with a balanced diet through our freeze-dried recipes or on-the-go treat options as well."
Early expansion
Just one year after the Petsource facility started production of its high-protein, nutrient dense, raw nutrition pet food products, the company announced plans for a $75 million expansion — once again providing the supply to meet the growing demand.
"We designed the layout in order to expand," Patterson said at the time of the expansion announcement in November 2021. "We anticipated doing that in three to five years but, based on significant demand, the growth that our customers are seeing in their brands, and our desire to continue to be a support and a solution for them, we are launching the expansion far faster."
An additional 60,000 square feet will be added to the existing facility footprint, which will ultimately triple the plant's freeze-drying production capacity. In addition, the expansion will include an additional forming line, a frozen block raw protein processing line and 15,000 square feet of warehouse space.
Recruitment for the 75 additional employees needed to help run the expanded facility has already begun in and around the Seward area. The company also plans to tap into technical schools to recruit qualified candidates.
"We are using word of mouth and referrals from our current employees to help us find the additional workers we need," Heussner said.
Startup for the expansion is expected by late spring 2023, with full capacity production anticipated by mid-winter 2023.
Read more of our exclusive pet food and treat processor profiles.
https://www.petfoodprocessing.net/articles/16310-slideshow-petsource-by-scoular-a-one-stop-shop-for-freeze-dried-products