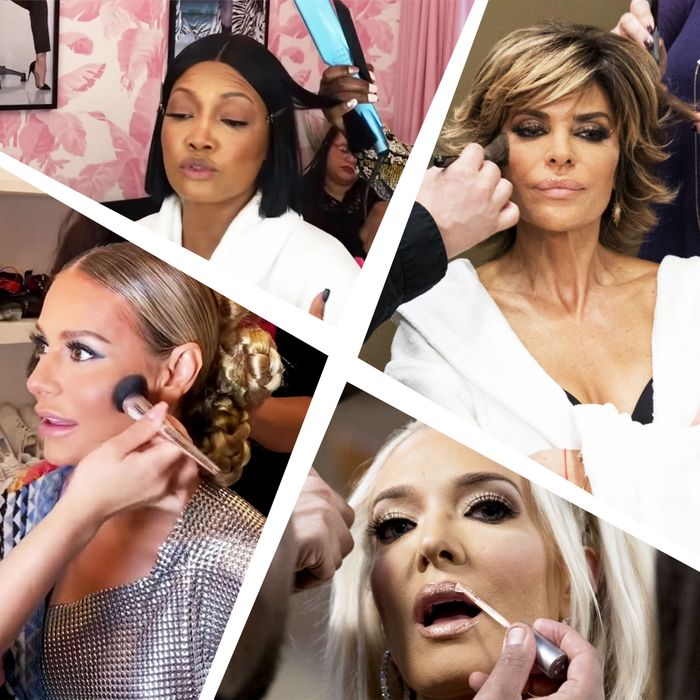 Photo-Illustration: by The Cut; Photos: Bravo
Glamor, beauty, and the pursuit of youth have always been central to the Real Housewives. When the first show in the franchise debuted in 2006, Bravo's cameras took us behind the gates of Orange County's wealthiest communities, where women were willing to do anything to look perfect. Then came the Real Housewives of New York City, where Manhattan's high-flying business "mavens," like Ramona Singer, claimed to be proof that women can "have it all." (Marriage, family, career, and beauty.)
At the start, the cast mostly did their own makeup. Confessional interviews were often filmed in real time, to capture an instant reaction — no time for hair and makeup touch-ups. Real Housewives of Atlanta, the first show to feature a predominantly Black cast, began to elevate the show's hair and makeup standard. From around the third season onward, when the cast had cemented themselves as "celebrities," the looks became gradually more extra. Still, even then it was pretty rare to see the 'wives getting their hair and makeup done — whenever we did, it was usually a special occasion, like a doomed vow renewal.
Then came Erika Jayne, a famous lawyer's wife turned dance-pop siren turned Real Housewife of Beverly Hills. She arrived in season six, flying between gay bars on private jets and gyrating across the sticky stage floors in bejeweled catsuits. The offstage looks she created, particularly in her confessionals, were often character based, inspired by references from classic Hollywood, cult films, and pop culture. On the show, the line between her stage and personal personas was often thin — and glam was a huge part of both.
In previous seasons of Housewives, the hot-headed chefs, meddlesome facialists, and eccentric party planners who worked for the women were often brought into the fold, adding color to their world. Jayne's "glam squad" quickly became a recurring character too. We would see the painstaking planning and mood boards that went into creating her looks for performances and cast events. Before her highly publicized divorce, and subsequent legal and financial issues, Jayne confessed to spending $40,000 a month on clothes, hair, and makeup. She even flew the entire Pretty Mess Krewe (as they are known) first class to Dubai for her debut season's cast trip, which became a major talking point among the cast and fans.
"On Beverly Hills, each woman had their own iconography and signature look. Erika did that but then took it to this camp extreme," says Brian Moylan, author of The Housewives: The Real Story Behind the Real Housewives. "She was basically acknowledging that the 'Real Housewife' had become a construct and that she was on television — a visual medium. Obviously, it takes an army to look like this, and she was prepared to show us that army."
In the post-Jayne era, glam has become a plot point in its own right. It's not just about the process of bringing an iconic look to life, either. In season nine, original RHOBH cast member Kyle Richards famously banned glam squads from a cast trip she hosted in Provence, France, because she was sick of waiting for her co-stars to get their hair and makeup done. The following season, she clashed with co-star Dorit Kemsley over glam at a Malibu wellness retreat. Kemsley had turned up hours late in full hair and makeup, wearing an "athleisure" look, which, for some reason, translated to a professionally styled 1960s-inspired hairdo and a bedazzled Balenciaga jacket. The multi-episode fight that ensued generated some truly iconic sound bites:
"Don't come in your fake workout clothes when you're not going to fucking work out! I think it's fucking weird, okay!" Richards screamed. "I have a life, Kyle!" Kemsley shouted back as the show's editors collaged all the Instagrams she'd posted of the look when she was "running late."
When I ask Jayne if she considers herself a "glam pioneer" for putting this process in front of the camera, she is diplomatic: "We clearly all enjoy this form of expression," she says. "The Housewives franchise is an amazing platform to have fun with it." Mikey Minden, her official partner in glam as creative director of her Pretty Mess Krewe, is less so: "As someone who watched Bravo before Erika joined, I know that no other Real Housewife ever put the same effort into executing their on-camera looks as we did," he says. "We inspired the 'glow up' of others' newfound energy into stepping up their fashion, hair, and makeup game. It truly is a compliment to our work." Moylan, who co-wrote her 2018 memoir Pretty Mess, agrees. "Erika approached glam like a costume, which gave everyone permission to do outrageous things," he says. "On Beverly Hills, it's almost like an arms race now. Everyone is professionally styled: hair, makeup, the whole nine yards!"
Jayne tells me that she had been working with Minden for six years before she joined RHOBH, so bringing the crew on the show was a "natural part" of sharing her life. "I've always loved watching the process of building and creating iconic moments in fashion," she says. "The show is all about immersing the viewer in our worlds, so in that sense, the hair, makeup, outfits, and costumes were already a part of my world as a performer."
Kemsley joined the RHOBH cast in season seven, a year after Jayne. Similarly, the globetrotting swimwear designer from Connecticut (with a British accent) made glam a key part of her on-screen persona. For the season-eight reunion, her head was adorned with blingy statement hair clips, two of which spelled out the words "glam icon." In season nine, she sported a Rapunzel-style long ponytail, entwined with jewelry, which she admits caused physical pain. And in Rome, she flaunted huge hair and countless gold accessories. (She insists it was worth the time, despite making her co-stars 45 minutes late for dinner). "I usually decide the day of or night before what I'm planning to wear," she tells me. "Then I discuss with my glam team when they arrive how I want to finish the look."
Like Jayne, who has used the platform to launch a shoe line and her own range of luxury hair extensions, glam isn't just a passion for Kemsley: It's business. Since joining the show, her Instagram (where she posts her looks and inspiration) following has ballooned to 1.4 million followers. She's also launched her own lifestyle brand, Beverly Beach, plus a line of luxury wedding dresses. "Fashion and glam is a part of who I am so of course it's a part of my brand," Kemsley says, before adding: "But it's definitely not my entire brand."
In a heated moment in Lisa Rinna's first RHOBH reunion, she was told, "You've had the same hairdo for 20 years!" by then-nemesis Brandi Glanville. Rinna, who joined the series in season five, has noticeably upped her game since Erika Jayne joined the show. Now, it's normal to see her in wigs, bold makeup, and more fashion-forward clothing. Rinna tells me that she hired her stylist, Marielou Bartoli, after pulling together all the looks for the show became too much work. "We have wardrobe and hair and makeup on TV shows, but in this show we have to turn it out on our own — and that's a lot of looks!" she says. "I wanted it to be more fun and not a struggle. Now we have a lot of fun creating all of the looks. It's a very collaborative experience." In Moylan's book, he reports that Housewives are offered a budget for reunion looks (including a dress), plus glam for confessional tapings and title sequences. But all cast trips and other scenes we see on the show have to come out of their own pocket, which can be a considerable expense.
Rinna has seen a return on her investment, though. In 2021 she launched Rinna Beauty, a brand of makeup and lip kits that she sells directly to consumers on Instagram and promotes on the show (the Kylie Jenner business model). Her latest "alter ego" collection of lip kits are named after some of her most memorable looks from the show with sassy monikers like Kiki, Sabine, and Heidi. After its launch, the brand reported strong month-on-month growth and was forecast to reach $10 million in sales last year.
Housewives launching businesses has been a mainstay ever since Bethenny Frankel, a founding cast member of the New York City show, hit big with her Skinnygirl brand. She sold the cocktails arm of Skinnygirl for a reported $100 million in 2011 and says the rest of her businesses bring in close to $100 million every year. There is even a "Bethenny Clause" in new Bravo contracts, which stipulates that the network can take a cut of any business launched on the show which sells for more than $1 million.
A now-cliched story line on the series is wives launching skin-care and makeup businesses, from Ageless (Ramona Singer, NYC) to Wild Rose (Whitney Rose, Salt Lake City), EveryHue (Gizelle Bryant, Potomac), CaraGala (Gina Kirschenheiter, O.C.), and many more. Not all of them have been successful: EveryHue closed down and Ageless never reached stores, despite being heavily promoted on the show. At least Housewives can always make an easy buck promoting other people's beauty brands in paid Instagram partnerships.
And just as the stars of Real Housewives are finding ways to capitalize on glam, so is the network behind them. Around 2016, hair and makeup artists from Priv started appearing on episodes of Housewives and Keeping Up With the Kardashians. (Think Uber for glam — on-demand hair and makeup artists, plus beauty products, can be booked via the app.) When RHONY's Tinsley Mortimer threw a "Thank you, fuck you" party for Sonja Morgan in season nine, her glam team arrived wearing Priv T-shirts. This was one of many appearances that was promoted on the app's socials, with Bravo offering a discount code for Priv on its website.
In 2017, after using its most popular reality shows to drive app downloads, NBCUniversal, the umbrella network behind Bravo and E!, bought a controlling stake in Priv. The network said in a memo to staff that Priv is a "natural" fit with its business, which "organically overlaps with the interests of our fans."
Glam is now embedded in Housewives as a narrative device. At reunion tapings, we see Andy Cohen chatting to the women while their glam squads get them ready for battle. In regular season episodes, glam squad members often step into Cohen's shoes and ask the women about the dramas they're having and unpack any nerves they might have for the evening ahead. Atlanta Housewife Kenya Moore was filming one of these scenes when she found out she had been uninvited to an event by co-star Lauren Williams, hours before it was due to start. She asked producers: "Did y'all know about this?!" When they claimed not to, she clapped back: "Somebody's paying for my hair and makeup, I know that."
The rise of on-camera glam has coincided with the gradual erosion of the "fourth wall." From the start, it's been very common for 'wives to have a "second season glow-up," a tacit acknowledgement of the cameras. But now glam (and glam-related drama) has become just another Housewives trope — even on the New York City show, which used to have a much more low-key relationship with it. In the last season of RHONY, for instance, newbies Leah McSweeney and Eboni K. Williams clashed with Ramona Singer after their glam for a small dinner in the Hamptons overran and made them late.
These clashes come down to different definitions of "authenticity." The Housewives spend a lot of time fighting about who is and isn't "living their truth" on-camera. But this can be hard to square with the fact that a lot of them are playing dress-up in full glam when the cameras are rolling. It doesn't feel like a coincidence that fans felt most connected to Kemsley in the aftermath of her terrifying home invasion, when she turned up to Richards' house to film without makeup, dressed in sweats. We saw her break down in front of the cameras for the first time. It wasn't pretty, or easy to watch, but it was real.
On the other hand, perhaps breaking the fourth wall – either by arguing about glam or letting viewers see how looks for the show come together – is authentic in its own way. After all, wouldn't keeping glam squads off camera, or hiding all the effort that goes into looking like a Real Housewife these days, be even more far removed from reality?
This dilemma has divided the Housewives cast and fandom. "I remember when Tinsley joined RHONY, the other Housewives were always talking about how long she spent in hair and makeup," says superfan Samantha Bush, who runs the @BravoHistorian Instagram account. "On the season ten cast trip to Cartagena, there was this amazing scene where Bethenny, Luann, Sonja, and Ramona were sitting together alone. And Bethenny basically said 'remember when it was just us, and we just showed up and did our thing?'" Frankel echoed this sentiment on her podcast recently, rebuffing rumors she was considering returning to the show. "Back when we were doing it, we didn't have glam squads and we didn't have high budgets," she said. "Then it evolved into glam squads and costumes and hair pieces and a whole fashion show. It's a whole different iteration to what it was."
"Watching these rich women live their lives is fascinating, but it puts me off when it feels put on," Bush says. "I don't need to see these women getting their makeup done, particularly during COVID or for a workout. I don't watch Housewives for the glam, I watch to be entertained." She associates glam squads with the Housewives becoming "characters" and the shows losing their organic-ness. "I worry for a new show like Salt Lake City, that it's putting too much emphasis on glam and costumes," she says. "That's not what makes a great show. Potomac has glam, but it also has real, deep connections."
Glam's journey to the forefront of Housewives is really a story about reality TV's coming of age. As the medium has become more popular, the old order of "low art" versus "high art" has been upended. Real Housewives were once shunned by the elites of fashion and beauty, but now they're following their lead. Kemsley and Jayne have appeared in Vogue, while Sonja Morgan and Karen Huger were shot by PAPER. Sutton Stracke met Andy Cohen for the first time at Anna Wintour's Met Gala and counts designer duo Domenico Dolce and Stefano Gabbana as close friends. (She even walked in one of their fashion shows). Gigi and Bella Hadid's rise to superstardom was helped, not hindered, by their mother Yolanda Hadid appearing on RHOBH for four seasons. "Gatekeepers of taste in that Vogue world were definitely keeping reality TV at arm's length for a while," Moylan says. "But now it's become so saturated into the culture, they just can't anymore. They've validated them and are now being influenced by them."
Today, glam squads are at the center of a clash between two different philosophies of what these shows are about. As the franchise has transitioned from surprise hit to novelty and now into a platform with genuine cultural cachet, the influence and bankability of its stars has increased. For some old-school fans, glam's move in front of the camera represents the shows becoming less of a fly-on-the-wall insight into an elite world and more of a produced branding exercise. But newer fans seem more at ease with the constant glam-related opportunities to stan their faves on social media. From stalking the 'wives behind-the-scenes Instagrams while they film to waiting for confessional and reunion looks to drop, glam has helped to create a year-round fan experience.
It's impossible for most Housewives shows to recapture the innocence of the pre-glam, pre-Instagram era. But that doesn't mean they've lost the ability to enthrall and entertain us: According to Andy Cohen, RHOBH has "in a weird way, emerged as the crown jewel in recent years." He's not wrong — and its resurgence was notably driven by the fallout from jaw-dropping scandals engulfing Jayne and her co-stars, rather than the looks they served.
As long as there is money to be made from looking fabulous, glam squads won't be going anywhere. But like Bravo's smartest Real Housewives, the best reality shows understand that looks only get you so far — authentic drama and relationships will always reign supreme.

https://www.thecut.com/2022/05/real-housewives-glam-squad-debate.html